Photos | Videos |2003 Video| Tornado Fest | May 12 Kansas | 2004 Video| 2005 Video
2006 Tornado Highlight Video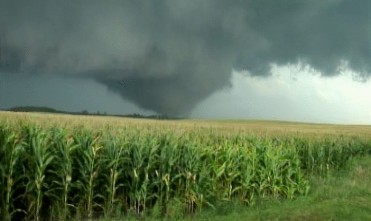 2006 Tornado Highlight Preview (~9.8 MB)

The 2006 Tornado Highlight Video is almost ready; it looks like it might end up being between 75 and 90 minutes in length, because I might add some bonus footage after the final credits. The video will be in Widescreen Format for those movie buffs like me, because we shot all the 2006 footage in High Definition, so we didn't want affect the quality of the video. For most storm chasers the 2006 season was horrible, but Team Stormgasm was able to find the best tornadoes of the year.
October 26: Southwest Kansas Tornado Outbreak
Rare October tornado outbreak in Southwestern Kansas caught on film! 7 Tornadoes are documented: 3 on the ground at once! Watch this rare cold-core tornado outbreak unfold as Stormgasm tells you the story.
September 21: Russell, KS Tornado
Wow! Big tornado hits Russell, KS! Two tornadoes and numerous funnel clouds in North Central Kansas Tornado Outbreak; one tornado passes through west side of Russell, KS with lots of debris in the air!
September 16 : South Dakota Tornadoes
Beautiful! Two tornadoes in South Dakota Outbreak!
August 24: Southern Minnesota
Huge tornado! Incredible cone to multivortex to stovepipe to wedge evolution on video of this deadly, long-track, monster Minnesota tornado.
Probably the most beautiful tornadoes of the year: two gorgeous cone tornadoes captured near the outskirts of El Reno, OK. First tornado begins as a skinny cone, grows to a large cone, and then has a 'pencil-thin' rope-out stage. Second tornado is just a beautiful, but is a rare anticyclonic (clockwise) rotating tornado and has a long and incredible rope-out stage.
April 16th: (Easter Sunday) Illinois
Incredible tornado outbreak in Illinois on Easter Sunday! Stormgasm captures 5 tornadoes in Illinois on this day; one tornado was on the ground for nearly 30 minutes and passed within one-half mile of the chasers. Incredible and memorable footage from Easter Sunday!
March 20th: Western Oklahoma
This was not a spectacular tornado, but it formed under incredible and very rare conditions. This tornado developed from a very small supercell near the town of Putnam, OK. 30 miles away snow was falling, but the conditions were just right to produce this nice cone tornado. Team Stormgasm made one of their best forecasts to catch this tornado.
All storm chasing (tornado, supercell, lightning, hail, sunset, ect.) photos and videos are copyright property of Jim Bishop and Simon Brewer (Stormgasm), unless otherwise specified. Any unauthorized reproductions are strictly prohibited by law.
Copyright 2004 Stormgasm.com. All rights reserved.