Photos | Videos |2003 Video| Tornado Fest | May 12 Kansas
2004 Tornado Highlight Video

DVD $15 marked down from $25!
(+4$ for shipping outside U.S.)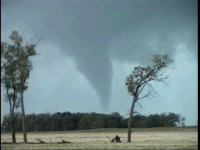 2004 Tornado Highlight

Buy now for $15 with Free Shipping in the U.S.
*$4 shipping outside the U.S.
Disclaimer: This video contains explicit language.
The 2004 Tornado Highlight Video is complete. After what can only be describes as an amazing chase season, we have compiled all our tornado footage into a 75 minute video. It features:
Wow! After the days seemed like another waste we capture not one, but two wedge tornadoes. That's two great ways to start a tornado season right!
This is the first in a series of tornado outbreaks that swept through the plains in May of 2004. Watch this unrelenting supercell produce tornado after tornado for a total of eight tornadoes in one day! It's tough to beat that...
Watch this spectacular tornado emerge from the rain and track across the plains of Nebraska.

This is unbelievable footage of the largest tornado ever recorded, an unprecedented 2.5 miles wide! The video stills do not give justice to the video. Then, watch a satellite tornado hit a building while we are inside!!! This is a MUST see!!!
A graceful rope tornado skirts across central Oklahoma.
See a classic Iowa tornado slowly move south in the distance. Also, some truly stunning coloration was captured on the second tornado we snagged as this gorgeous barbor pole tornado slowly crept its way across central Iowa.
June 12 South Central Kansas
The season came to an incredible end with two tornadoes in southern Kansas. Breathtaking video of a tornado near sunset was captured. A skinny, needle-like tornado later formed and persisted for several minutes, tossing trees and other debris in the air.
All storm chasing (tornado, supercell, lightning, hail, sunset, ect.) photos and videos are copyright property of Jim Bishop and Simon Brewer (Stormgasm), unless otherwise specified. Any unauthorized reproductions are strictly prohibited by law.
Copyright 2004 Stormgasm.com. All rights reserved.