Photos | Videos |2003 Video| Tornado Fest | May 12 Kansas
2005 Highlight Video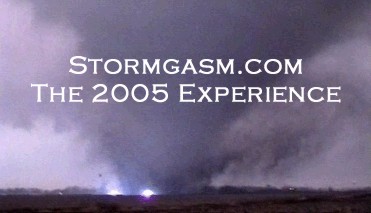 2005 Tornado Highlight Preview
Large destructive tornadoes, 3-Catagory 3 Hurricanes, and incredible storm structure highlight the finest video developed by Stormgasm Productions. Order a DVD copy today for $24.99.

Watch Simon and Reed risk their lives documenting Hurricane Katrina: one of the worst natural disasters in American History. Watch Jim get unbelievably close to a strong November Iowa stovepipe-tornado. Watch Simon again as he chases some of the biggest supercells and meanest tornadoes of 2005 and then intercepts 2 more Category 3 Hurricanes; Dennis and Rita.

Don't have Paypal? No problem! Just send a check (payable to Jim Bishop) to:

Jim Bishop
Stormgasm.com
777 Dunlavy St. Apt. 5208
Houston, TX 77019
Disclaimer: This video contains explicit language.