Originally Aired September of 2010
Below are some images from the 2010 Storm Riders' 2nd Season:
Stovepipe-shaped tornado south of Campo CO May 31 2010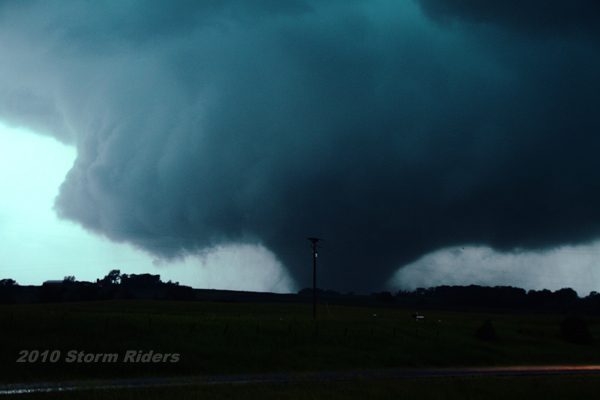 Wedge-shaped tornado near Clarks Grove MN June 17 2010
fortunately this tornado missed many farms but still caused damage rated EF3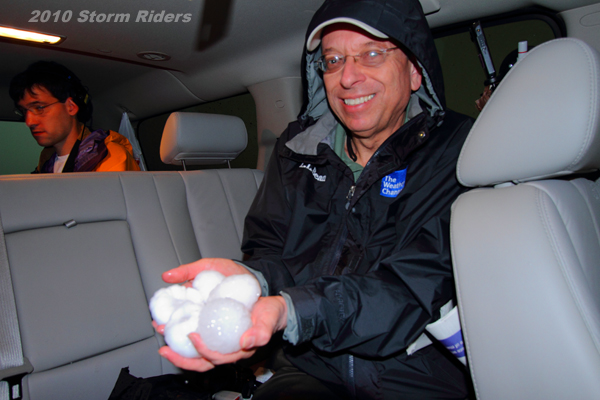 Dr. Greg Forbes displays golfball to baseball sized hail near Akron CO late June 21 2010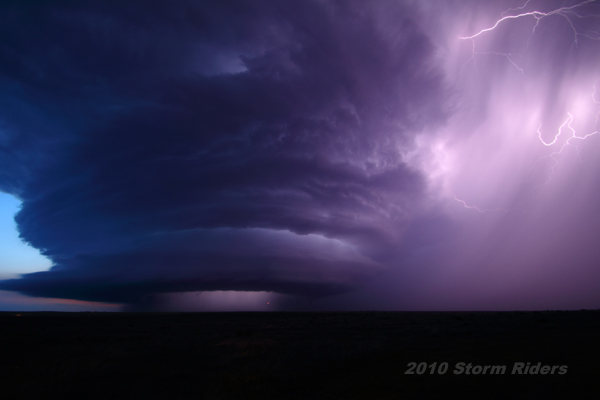 Striated HP Supercell structure illuminated by lightning at dusk east of Stinnett TX May 18 2010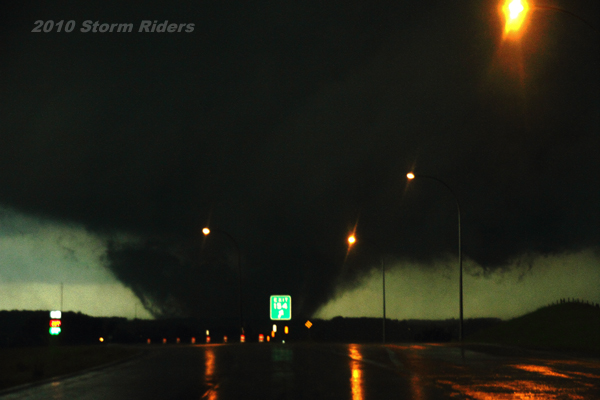 Violent Multivortex tornado crosses I-90 near Alden MN June 17 2010
fortunately this tornado passed west of Albert Lea but still caused EF4 damage and killed one person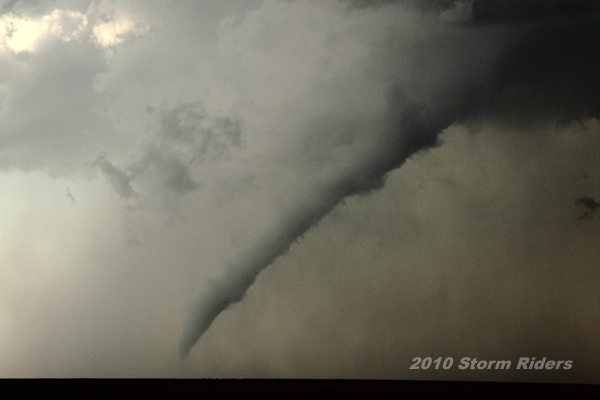 Tornado ropes-out over rural northern Cimarron County OK May 31 2010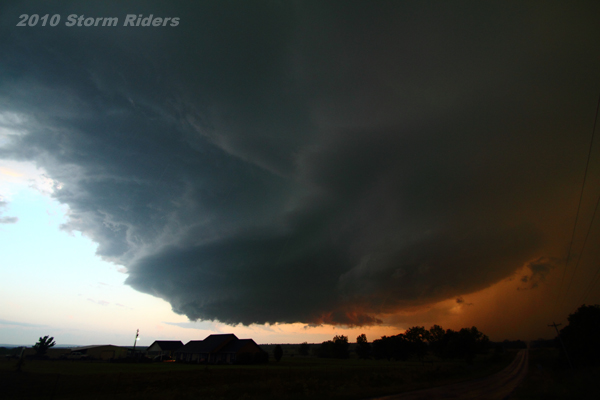 Supercell at sunset several minutes before producing a tornado near Wynnewood OK May 19 2010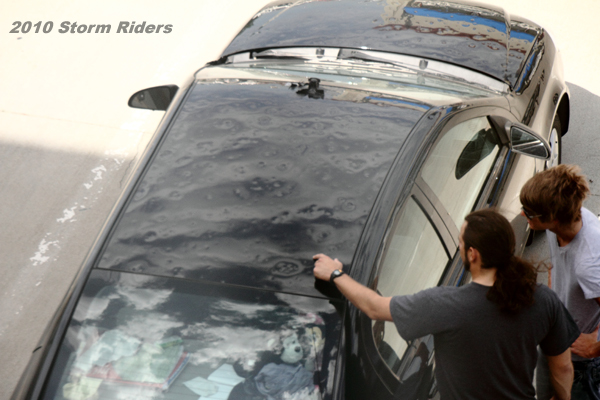 Morning of May 19 2010: Joe and Simon inspect hail dents caused by Texas Panhandle supercell the previous day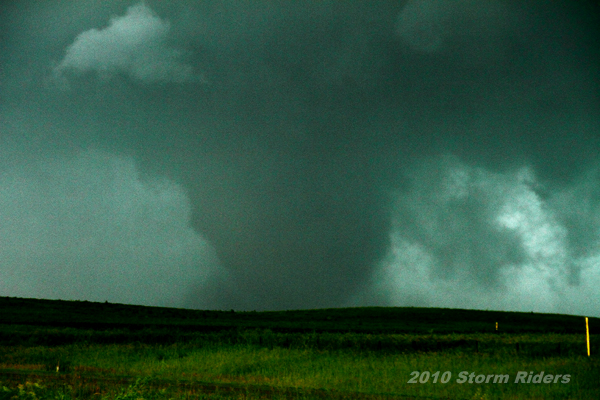 violent stovepipe-shaped tornado north of Alden MN June 17 2010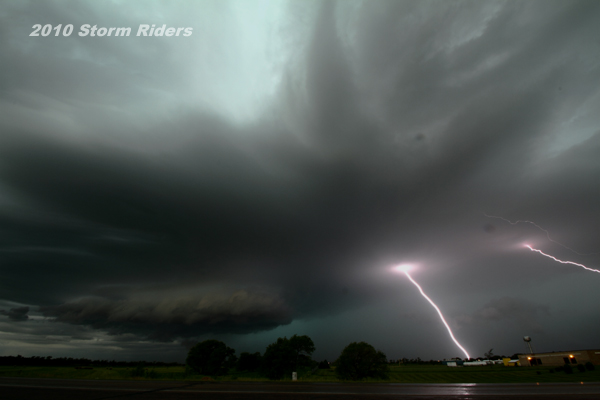 Frequent Cloud to Ground lightning from supercell over Mission SD June 22 2010
several minutes after this image this storm produced a tornado north of town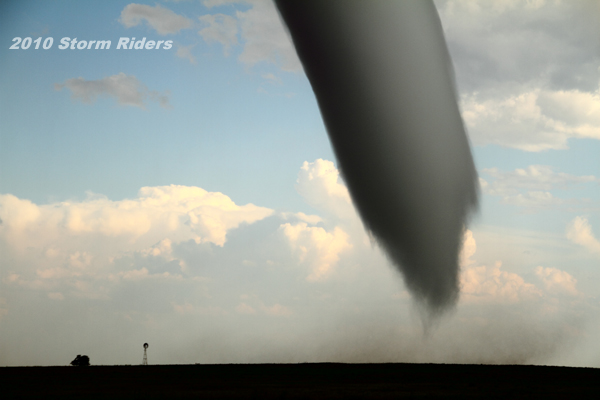 Dramatic condensation funnel from tornado south of Campo CO May 31 2010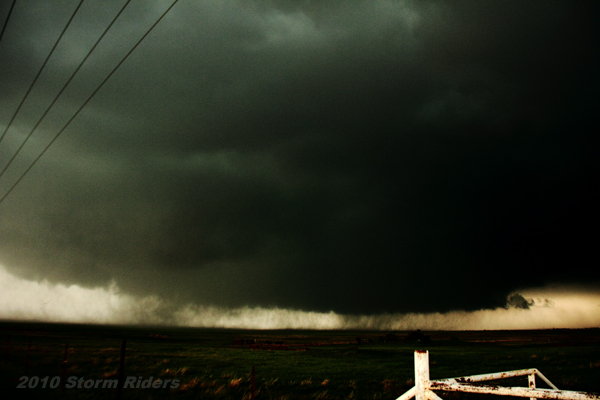 Debris kicked up under massive bowl funnel (left side of image) near Wakita OK May 10 2010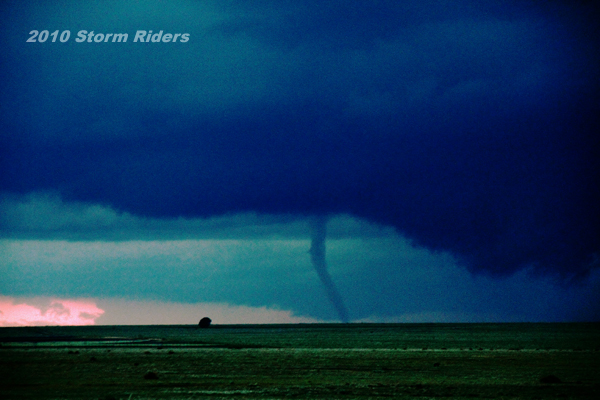 Tornado ropes-out over rural southeastern Colorado near CO/KS border on May 25 2010 (Storm Riders were on the Kansas side)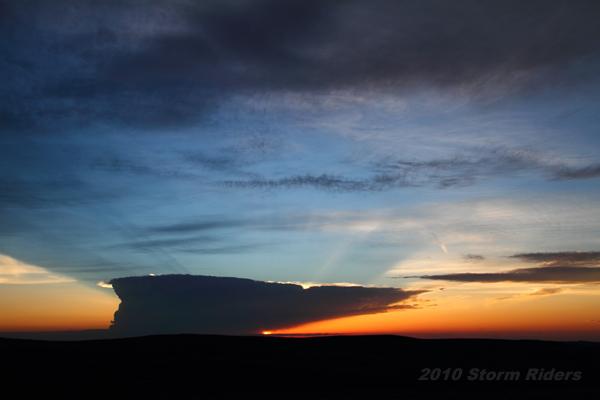 Supercell over southeastern Montana at sunset on May 27 2010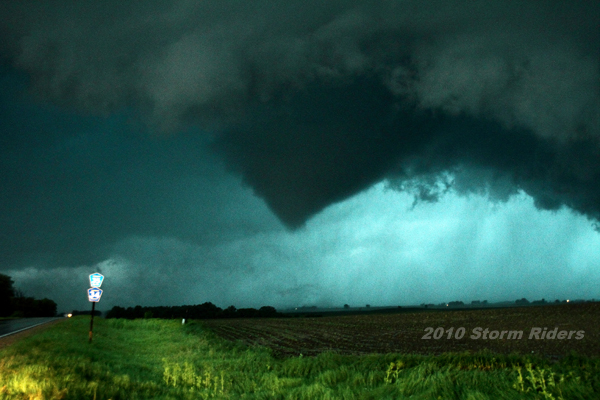 Cone-shaped tornado West of Blooming Prairie MN June 17 2010
The chase car and support car front doors were caught and bent forward by powerful inflow winds feeding into this tornado. The door hinges were so badly distorted they didn't completely close forcing the chasers and crew to hold onto the doors as they left the storm. Juston and Simon later fixed the doors in an Albert Lea restaurant parking lot.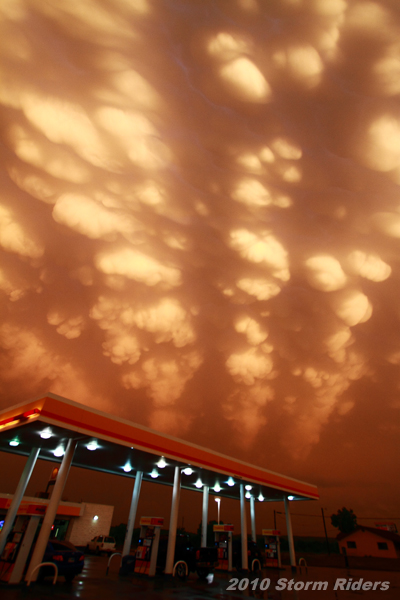 Mammatus hang from the red sunset sky over eastern Oklahoma following deadly tornado outbreak May 10 2010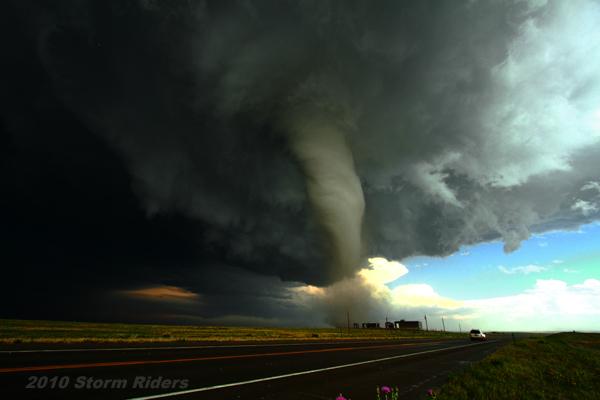 Dramatic tornado south of Campo CO May 31 2010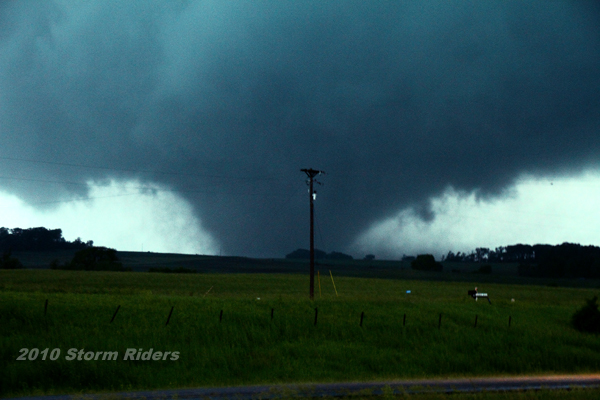 Wedge-shaped tornado near Clarks Grove MN June 17 2010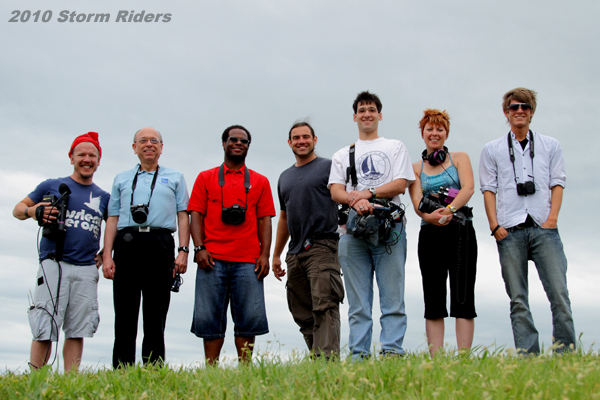 Left to Right: Rob, Dr. Forbes, Juston, Simon, Zac, Erin, and Joe on "Tornado Hill" in Grand Island NE
damage from the deadly June 3 1980 tornado outbreak was piled and covered in dirt (now a very large sledding hill)

Rain-wrapped wedge tornado behind producer near Wakita OK on May 10 2010
tornado is difficult to see in original photograph, but shows more easily with higher contrast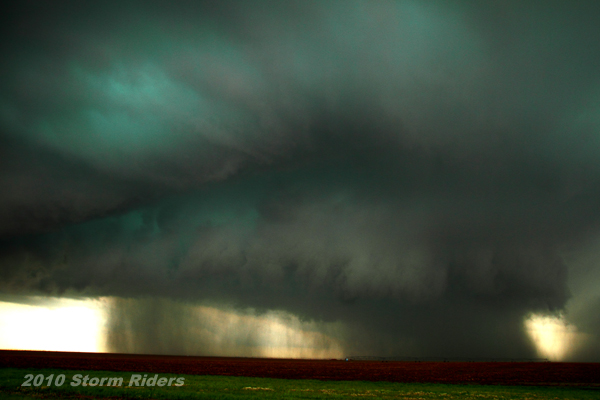 Rain falls through large wall cloud west of Dumas TX May 18 2010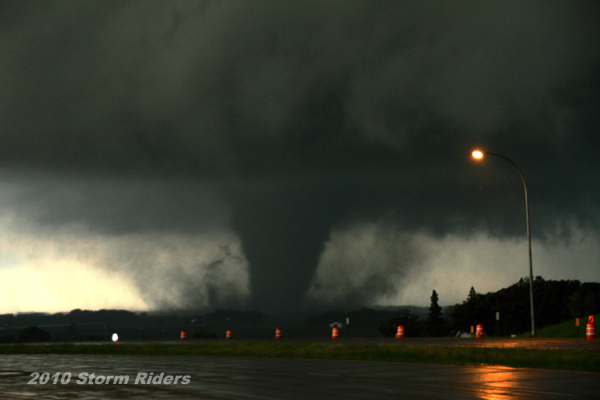 violent stovepipe-shaped tornado near Alden MN June 17 2010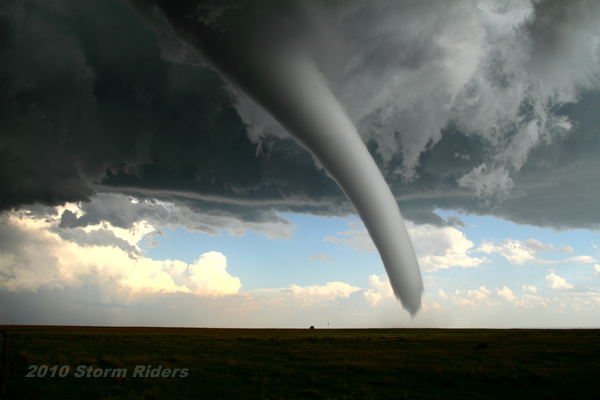 Smooth Rope tornado over open prairie south of Campo CO May 31 2010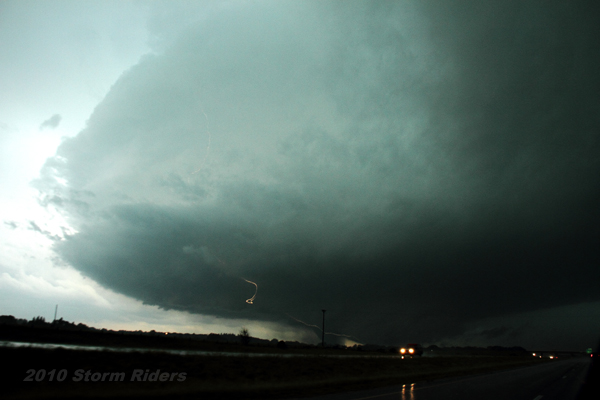 lightning streaks in front of violent wedge-shaped tornado near Conger MN June 17 2010
Massive supercell can be seen (tornado is behind utility pole, large feature to its right behind car is a new wall cloud)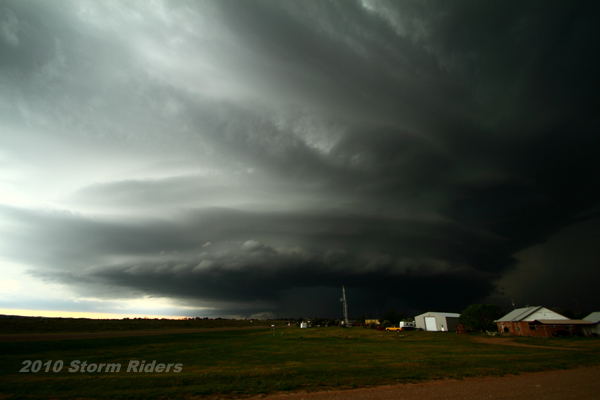 Striated tornadic supercell (cone tornado blocked by light gray garage) West of Stinnett TX May 18 2010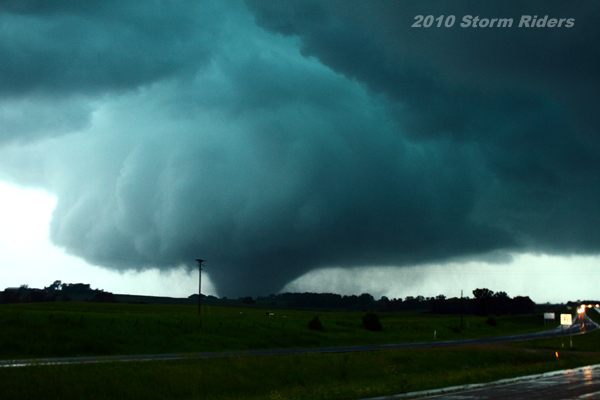 huge wall cloud with wedge-shaped tornado near Clarks Grove MN June 17 2010