2005 Chase Season Kicks off!
The 2005 storm chasing season is going to be different for Stormgasm this year. Jim is living and working full time in Houston, Texas. This limits the time he is able to chase. Although he has managed to chase a few supercells in southeast Texas this year. Simon and Tom still reside in Norman, Oklahoma. But with Tom working full time, Simon may be chasing solo a few times this year.
March 21st: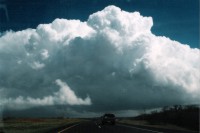 Simon tracks 3 seperate low topped supercells across east-central Oklahoma. While the video is poor, he did view a tornado from a very close distance through an area of trees from the north. Chase pics coming soon.
Jim views classic supercell over south Texas.
March 24th: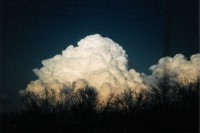 Page Updates
May 16, 2004: More photos are finally online!
2004 Tornado Highlight Video!

The 2004 Tornado Highlight Video is now available for purchase. This year we did something amazing; we captured video of the largest tornado ever recorded, a whopping 2.5 miles wide. Also, we have unbelievable footage of a tornado hitting a building while we are in it! This is a must see... Click here.
Record Breaking Tornado! (Video Online)
That's right, just leave it up to Stormgasm to capture video of the largest tornado ever recorded. On May 22, 2004 we saw a tornado just south of Wilber, Nebraska that reached a width of 2.5 miles! Go to our chase page from this event to download a sample video clip.
Storm Chases Pages Updated
May 29, June 11 and June 12 have been updated with video stills of the tornadoes. June 12 has a full chase account.
New: Message Board!!
The Stormgasm.com Message Board is up and running. Check it out right now.
This site has entered a new stage in storm chasing websites. We, the founders of Stormgasm.com, are very excited about the development of the Stormgasm.com Message Board. This site has continued to grow since its creation in 2001, and we continue to strive for new levels of excellence. It is now possible for this site to reach thousands of weather enthusiasts eager to communicate with each other. Please submit your comments/questions on the Message Board. Thank you for supporting Stormgasm.com.
Two Weeks of Chasing
May 22: Wilber, Nebraska massive wedge!
May 16: Amelia, Nebraska Tornado Video Online.
May 12: Kansas Tornadoes- Watch Video
After approximately 10,000 miles of chasing in Oklahoma, Kansas, Nebraska, Iowa and South Dakota between May 11th and May 26th, we have finally been home for more than a single day! After the amazing day we had on May 12 in Kansas, we had an incredible day in Nebraska on May 16th, witnessing a very photogenic tornado near Amelia, Nebraska after seeing a large tornado 30 miles to our west in the sand hills of Nebraska!
But nothing could have prepared us for the outbreak that occurred on May 22nd. After chasing a non-tornadic cell north of York, Nebraska, we dove south to catch a violent tornadic supercell that formed near Hebron, Nebraska. We witnessed a massive, dark, violent mile wide tornado charging towards us just outside of Wilber, NE. According to the NWS this tornado expanded to an unprecedented 2.5 miles wide, with a 62 mile long damage path. This may be the widest tornado ever documented. It caused F3 damage in the southern outskirts of Wilber, and F4 damage in the town of Halem. For photos and information about the outbreak, click here. We are working on video stills and video clips. Please check back soon!
May 12 Kansas Tornadoes!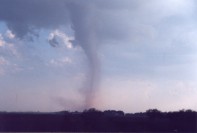 Simon, Mark and I captured eight tornadoes in southern Kansas between 7 and 9:30pm. What a spectacular supercell and series of tornadoes for one day. We are currently working on putting more photos and video online. Click here for the latest photos.
Six Consecutive Days of Chasing!
Wow, what an active week it's been. I (Jim) went storm chasing Sunday (18th) through Thursday (23rd), one of which was a terrible time in Minnesota. Simon had a couple unfortunate days in NW Oklahoma last week, then also had 6 days of chasing this week. We just haven't had time to get our film developed in order to have photos online. It's tough enough trying to pass our classes while chasing, much less keeping up with our photos online. Expect more video captures over the next couple days.
April 18- Jim and a friend in Minnesota (didn't pan out)
April 19- Texas panhandle: Two large tornadoes
April 20- Sapulpa, Oklahoma wall clouds/funnel
April 21- Central Oklahoma supercells/wall clouds
April 22- Oklahoma: Prague lp supercell & Okemah funnel
April 23- Duncan, Oklahoma massive hp and wall cloud
April 21 Oklahoma City Funnel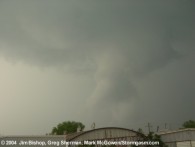 Jim Chases an hp supecell through downtown Oklahoma City with two others. A funnel cloud threatened to touch down over the metro area.
April 19 Texas Panhandle Tornadoes!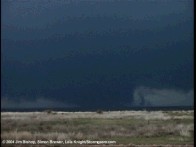 Simon, Lela and Jim bag two wedge tornadoes about 10 miles south southwest of Perryton Texas around 8pm.
March 27 W. Cental OK Tornadoes
In west central Oklahoma we captured our first two tornadoes of the season! This goes without mentioning the two amazing supercells we chased! Click here for more.
March 17th Central OK LP Supercell!
Jim films an LP supercell from Norman, OK. Click here for a sweet time lapse video of this low topped supercell.
Stock Footage Page
After a couple hours of dedication the stock footage page is in finally online. We still have to add information about our gustnado, hail, and lightning videos, but the tornado section is ready.
Update
The stock footage page is currently being expanded. We have several more tornado videos from various days available to download. We also have one gustnado video clip online as well!
Manchester Tornado Video on PBS March 30
On Tuesday, March 30th, 2004 at 8pm EST PBS aired NOVA's "Hunt for the SUPERTWISTER". For details, visit the NOVA section of the PBS website.
Post Program Commentary
Wow! The program was impressive. It provided a very good description of where the current tornadogenesis research is and where it is going. I didn't expect to see so much of Dr. Bluestein or Dr. Warman, but it was good coverage.
When the program got to the Manchester tornado it focused on Roger Hill's "Silverlining Tours". That's all good and fine, but not when they talk about them pursuing the tornado *while showing* mine and Reed's tornado footage! To someone who knows nothing of this event, one would assume that video was from Roger Hill. But that is incorrect. He had footage shown, but it was video from the rope stage, not the wedge stage, and certainly not video of the house being destroyed (abandoned house actually).
Nonetheless, I feel privileged to have my (and Reed's) tornado footage on such a credited educational program on tornadoes. Something like this is only made once a decade.
-Jim Bishop
Stormgasm's Popularity Suddenly Soars!
On January 9th, an unknown source placed a link to Stormgasm.com on a message forum (fazed.net). The very next day we received nearly 4,000 user sessions, more than ten times the number of user sessions typically observed in any given day! It didn't stop there. For several days following the site saw more than 6,000 users a day. Stormgasm pictures began appearing in several major websites across the world, including flabber.nl and themorningnews.org. Stormgasm.com had a weekly total of nearly 40,000 visitors during the week of January 11-17!
As a result, we have been receiving many different emails from people around the world about our photographs. The Photo Gallery has, so far, been a major success for the website, drawing in thousands upon thousands of unique visitors to our site. We love reading your thoughts about Stormgasm.com, storm chasing in general, weather phenomenon, photography, ect. One side note: I very recently discovered that a friend Gerard submitted the comment on fazed.net. Thanks Gerard!
There is almost always a negative side to something so incredibly great. Due to the sudden explosion of visitors we have had an enormous number of video clip downloads. Consequently, we were forced to take down Simon's May 8th tornado video, along with the new June 24th tornado video clips in order to lower the daily bandwidth usage. We are working on a much better and shorter promo clip for our highlight video, but we have not come up with a solution to the bandwidth problem itself.
Traffic has slowed down quite a bit since the Stormgasm "traffic jam", but our average daily user session numbers are still about five times what they were last month. Overall, this is absolutely HUGE for us because we now have roughly 50,000 people talking about, writing about, linking to, and sending emails about Stormgasm.com. This marks the first step in what this site could potentially become. And in case any of you were wondering, we due plan on putting up an incredible message board for the spring. School, money, and really just time have been preventing this for quite a long time now. So if you like Stormgasm now, visit frequently because it's only 'gonna get better with time!

- Jim Bishop
Manchester Tornado Video Coverage on Storm Stories
Follow-up

On December 9, 2003 The Weather Channel had a show on Storm Stories covering the tornado which destroyed Manchester, South Dakota on June 24, 2003. Parts of Jim Bishop and Reed Timmer's video (Tornado Fest) were shown.
I must say the show was very good. It showed how the victims of the tornado took action in the heat of the moment, and how they were affected.
Clips from our tornado video were shown frequently throughout the show. In fact, almost all of the tornado video shown was ours! I was a little upset when the show implied that the meteorologist from Sioux Falls shot the video. He explained what he was doing while chasing the tornado, but they showed our video. I feel Reed Timmer and I (Jim Bishop) were not given the proper credit.
Being a Hardcore Storm Chaser is Expensive!
For us, the chasing season began in early March with a trip down towards the Rio Grande. Then came a very active April with one period of six consecutive chase days. Halfway through May we had used nearly all our chasing funds. Keep in mind the gas prices this entire time (ouch!).
I know most of you have been expecting to see photos (rather than video stills) from the many chases we have had this year. We have so many rolls of film in our refrigerator that it would cost a lot of money to develop them all. While they will be developed and put online at some time in the future, we just don't have the money right now to get them developed! Given our predicament, I'll see what kind of video stills we can grab from these chases. Simon does have one undeveloped roll from the May 16 Amelia, Nebraska tornado. Due keep an eye out for those pics as they should be great.
Now it's June. There has been about one week of relatively inactive weather, so we haven't missed much. However there are a few days coming up that could prove to be great chase days. I only wish gas prices were not so high. We'll see what we can squeeze out...