November 12, 2005 Iowa Tornado Outbreak
Click on Pick Below to Watch Video (~10 MB):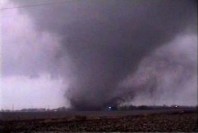 Jim Bishop and Mark McGowan left Houston, TX the afternoon of Friday November 11, 2005. A strengthening shortwave-through was forecasted to move across the Central Plains during the day Saturday; a decent chance for the formation of low-topped supercells and tornadoes seemed possible across Western and Central Iowa during the late afternoon on Saturday. Jim and Mark made a pit-stop in Norman and continued to Central Iowa.

Jim and Mark documented multiple low-topped supercells, 4 tornadoes (one large and destructive tornado), high winds and hail across Western and Central Iowa Saturday afternoon.

A chase account will be posted later.

| | |
| --- | --- |
| | |
| | |
| | |
| | |
| | |
Home | Storm Store | Photo Gallery | Message Board | Storm Chases | Latest News
Stock Footage | About | Contact | Editorial | Weather Links
All storm chasing (tornado, supercell, lightning, hail, sunset, ect.) photos and videos are copyright property of Jim Bishop and Simon Brewer (Stormgasm), unless otherwise specified. Any unauthorized reproductions are strictly prohibited by law.
Copyright 2004 Stormgasm.com. All rights reserved.