February 24, 2011 Oklahoma Linear Storm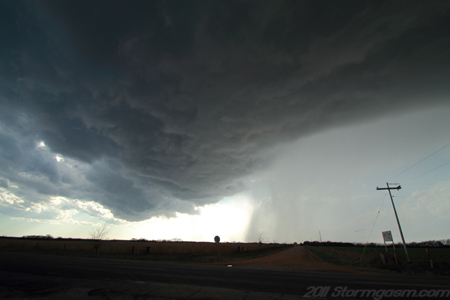 February 24, 2011: Simon Brewer documented a linear single cell storm near Bromide, OK.

Simon's Report:

I targeted an occluded boundary where the northern end of a dryline bulge met with an outflow boundary near Ardmore, OK. A cold front was surging southeastward across western and central Oklahoma. The trough was possitively tilted and the shear was not favorable for supercells or tornadoes. I was simply 'storm starved' and wanted to see some convection. Elevated morning storms progressed eastward into Arkansas and a clear slot (large clearing in the cloud cover) moved over central and eastern Oklahoma. The moisture north of the boundary mixed with the warm air south of the boundary and towers began to develop in the late afternoon/early evening along the occluded boundary.

A storm developed to the west of Ardmore and I drove on a small dirt road west of the small town of Bromide, OK. I documented the small high-based storm as it approached my location. It was a low-topped storm and had a healthy updraft and dark rainshaft to its northeast. The storm was clearly linear and I drove east through Bromide, OK to get a better view with less trees.

The picture on the right was taken west of Bromide, OK looking west at a linear single-cell storm.
The storm propagated eastward and I took a few photographs and some very short clips of footage. I decided to let the storm overtake my location and then proceed home. A strong west wind hit my location shortly before the updraft base moved over verifying the storm was outflow dominant. Pea and dime-sized hail occurred at my location as the rain/hail shaft moved over accompanied by high winds. It was a good successful chase even though supercells and tornadoes were not on the menu. Only the day before I was in Arkansas chasing earthquakes (see 2/23/11 Arkansas Earthquake chase here).

The picture on the right was taken east of Bromide, OK looking west at a linear single-cell storm with a linear dark updraft base and rain/hail shaft on the right side of the photograph.
Home | Storm Store | Photo Gallery | Stormtalk | Storm Chases | Latest News
Stock Footage | About | Contact | Editorial | Weather Links
All storm chasing (tornado, supercell, lightning, hail, sunset, ect.) photos and videos are copyright property of Jim Bishop and Simon Brewer (Stormgasm), unless otherwise specified. Any unauthorized reproductions are strictly prohibited by law.
Copyright 2004 Stormgasm.com. All rights reserved.