April 10, 2016
We are getting into the time of year when severe storm frequency begins to increase across the Great Plains of the United States. Severe thunderstorm and tornado activity usually becomes more common in mid and late April, with a significant increase in May. This frequency can vary a bit from year to year of course, but meteorologists and storm chasers know very well the typical storm chasing season begins in late April and holds through late June.
After reading that, you might wonder why I'd write a blog post about the atmosphere gearing up for severe storms late in in April! Well, it's true we would normally expect the pattern to bring at least some severe storms to the table in a few weeks. But in this particular case, it appears the atmosphere is quite literally getting ready to unleash the onset of the spring storm chasing season across the Great Plains!
Without getting too technical, I'll mention a few weather pattern drivers. First on deck – the MJO (Madden-Julian Oscillation). The base, or background, state of the ocean-atmosphere system (or climate) is currently trying to transition from El Nino to La Nina. In doing so, thunderstorm activity across the tropical regions of the Indian Ocean and around Indonesia has recently increased. Now, this is not just because of a tendency towards La Nina or the slow decay of El Nino (El Nino is still a driver). Water temperatures across the Indian-Pacific sector are extremely warm (well above normal), which is making it very easy for thunderstorms to develop. On top of that, yes, we currently have a sub-seasonal decrease in Atmospheric Angular Momentum occurring, which (IMO) is the climate system trying to dip it's first toe in the La Nina direction (probably the first of many).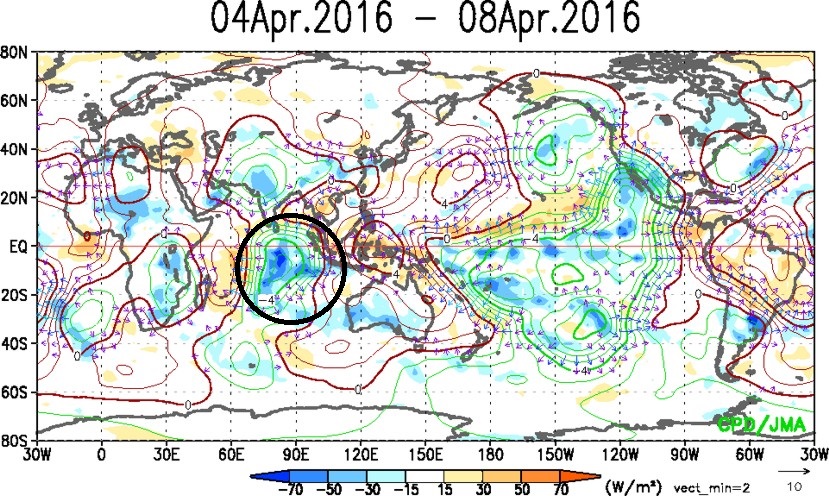 Above Image -outgoing longwave radiation (blue) over the pas few days, showing thunderstorm activity increasing over the Indian Ocean.
With increased thunderstorms and other signals coming together over the next couple weeks, we will have the birth of a new MJO wave over the Indian Ocean. As this grows in strength, it will naturally propagate eastward towards Indonesia (phase 5). In late April and May, this sends the Pacific jet stream crashing into the southwestern U.S. And with the tendency towards a more La Nina like pattern, the MJO will be working with falling AAM to bring a series of troughs into the southeastern U.S. That kind of scenario is conducive for an active severe storm pattern across the Great Plains of the United States.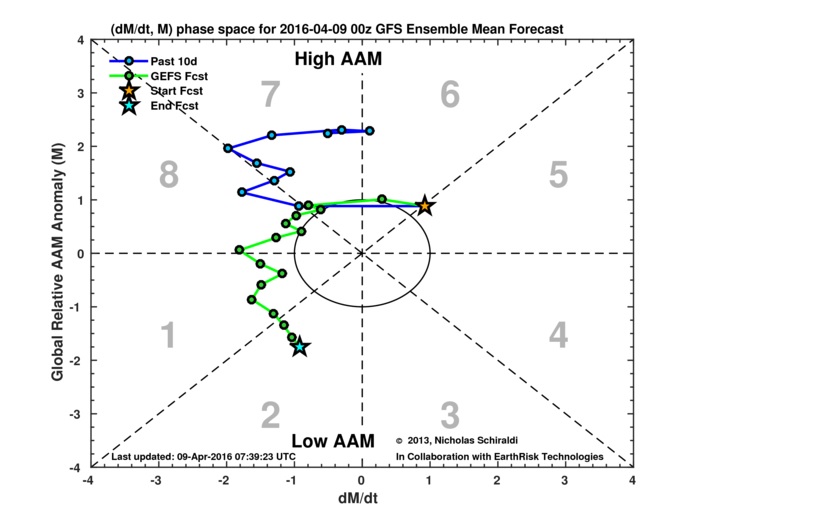 Above Image: Atmospheric Angular Momentum over the past ten days, and GFS Ensemble forecast as shown by the GWO.
The first response to the angular momentum dip will bring a couple days of severe storms to the Great Plains next weekend (April 16th) as indicated by medium range models. But there could be moisture issues, and it looks like we'll be dealing with a close low. I think the more prolonged, potentially more significant severe storm pattern will unleash during the last week of April and perhaps leading into very early May.
I don't want to bring up analog years or get too specific. But the way things are coming together reminds me of a couple different periods in the 2000s when severe storm/tornado outbreaks occurred across the central and southern Great Plains. We'll have to watch how both the MJO and angular momentum evolved over the next one to two weeks before getting a better idea of this pattern evolution. But it certainly looks like storm chasing season is about to kick off in late April into very early May.
Jim