Wednesday, 10 April 2013
Today I was greeted by a severe thunderstorm. It clearly had supercell characteristics on radar and it passed directly over my house here in western PA! This storm packed a pretty good punch, too. It brought strong downburst winds, dime to nickel sized hail, and at one point it sounded like the windows on one side of the house were going to break from the intense straight-line winds!
Being here in Pennsylvania I honestly didn't think I would need to have the video camera ready. I mean, we do get severe thunderstorms from time to time and I didn't expect all that much from this one. Well, once those strong straight line winds kicked in I ran for the video camera as the wind nearly took out the windows upstairs! I grabbed it in time to pick up two more very intense downbursts on video, but too bad I didn't turn off the auto focus! (That's the default setting anytime you turn on this video camera). By the time I realized it the damage had been done, with a good shot of raindrops on the glass door instead of intense wind video. But I did at least get some decent video of the dime to nickel sized hail falling.
If nothing else this was an exciting afternoon and it was a good test run for video shooting awareness.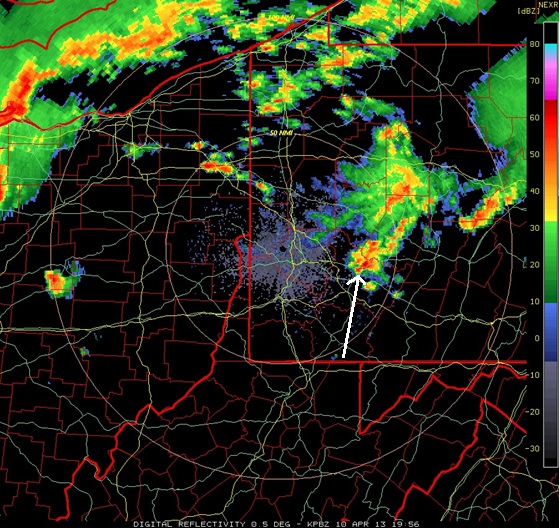 Short video clip. Note: Only about a second of the downburst winds are on video in the beginning due to poor filming (auto focus) by yours truly. Hey, cut me some slack, this isn't tornado video and I wasn't storm chasing!



After the hail stopped falling I went outside to take some pictures. At one point I took a shot holding the hail stone in front of me. Well, right as I snapped the picture a lightning bolt struck off the in distance in front of me! And it turned out that the bolt was literally right behind my finger and thumb in the picture. What are the odds?
- Jim