Hurricane Gustave
September 1, 2008 "Labor Day Hurricane II"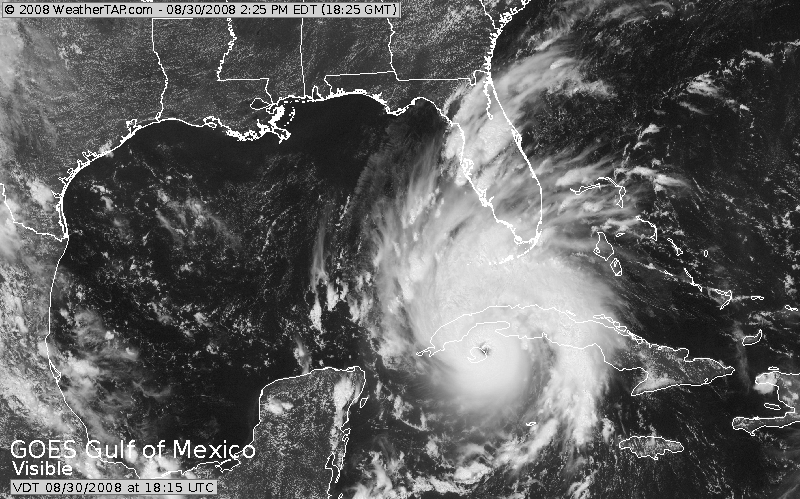 Catagory 2 Hurricane Gustav made landfall over southcentral Louisiana on the morning of September 1st, 2008. Juston and Simon intercepted the center of Gustav near Morgan City, LA. Weak, unfavorable wind shear from a large, weak upper-low to the west of Gustav created an environment that weaked the hurricane. In the early morning hours of August 31st the upper-low appeared too weak to significantly weaken Gustav, but by late evening of the 31st the environment appeared not only to be unfavorable for strengthening, but favorable for weakening of the hurricane. This proved to be beneficial to Louisiana, which had suffered significant damage by Hurricanes Katrina and Rita in 2005.
More content will be added at a later date....
4:39 AM 31 August 2008: Simon Brewer and Juston Drake are in Metairie, LA awaiting more data before making the final move for Gustav's landfall interception. We arrived on Friday afternoon on the 29th and spent some time scoping out possible spots along a large chunk of the Louisiana coastline for the interception of Hurricane Gustav. At this time the winds are sustained at 125mph with a central pressure of 958mb, but Gustav is moving over the Loop Current, which is a very warm region of water in the central and eastern Gulf of Mexico, which will be equal to throwing gasoline on a bondfire! Gustav is reintensifying and should reach strong CAT 4 status in a matter of hours and possibly attain CAT 5 status before making landfall in Louisiana. Concerns are that since Gustav is moving so quickly the sea surface temps might be a larger factor than deep warm water (ocean heat content). As of this writing it appears Gustav will make landfall southwest of New Orleans or west of Grand Isle.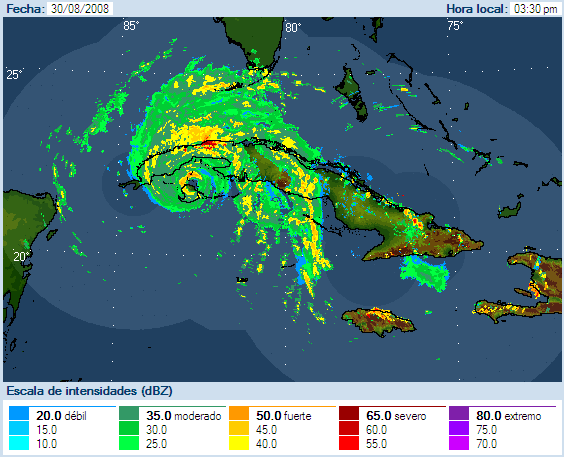 | | |
| --- | --- |
| The image on the right is the latest sea surface temperatures; notice the relatively warm waters along the Louisiana coastline. SST's should become a larger factor in storm strength than ocean heat content due to the fast motion of the storm caused by less upwelling from the churning ocean. | |
| | |
| --- | --- |
| Image on the right shows Gustav near its peak intensity before landfall in Cuba; the nearly perfect eye of Gustav was skimming the Isle of Youth and heading toward Cuba. As of this writing Gustav is less organized due to land interactions with the passage over Cuba. Gustav should reinensify into a powerful CAT 4 or possibly CAT 5, but it is likely Gustav will make landfall as a CAT 4. Lots to do, so it may be a very long while before the next update.... like maybe days. | |
Home | Storm Store | Photo Gallery | Message Board | Storm Chases | Latest News
Stock Footage | About | Contact | Editorial | Weather Links
All storm chasing (tornado, supercell, lightning, hail, sunset, ect.) photos and videos are copyright property of Jim Bishop and Simon Brewer (Stormgasm), unless otherwise specified. Any unauthorized reproductions are strictly prohibited by law.
Copyright 2004 Stormgasm.com. All rights reserved.