Tropical Storm Edouard
August 5, 2008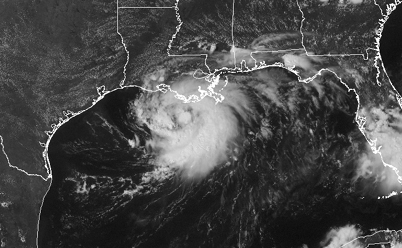 Tropical Storm Edouard made landfall between High Island and Sabine, TX on the morning of 5 August 2008. The National Hurricane Center estimated the top sustained wind speed at landfall to be ~65mph and a central pressure of 997mb. I left Norman, OK late and was not able to be on the coast at the time of landfall, but intercepted the center of circulation within an hour of landfall between High Island and Winnie, TX on SR 124 and measured a low pressure of 997mb. I can only guess the wind speeds; possibly 40-45 sustained with gusts to 50 or 60mph in the southern main convective band north of High Island, TX. I only witnessed light areas of wind damage. I brought my body board and drove south of High Island, TX to the beach to ride some waves, but the waves were too small to ride. I shot some video and met Mark McGowen at an old truck stop east of Wallisville, TX on I-10. We talked for a while and took off; about 1,000 miles round trip by the time I arrived in Norman.
5PM 4 August 2008: Preparations for intercept of Tropical Storm Edouard are currently underway. Stormgasm will be leaving for Crystal Beach, Texas this evening to hopefully intercept Tropical Storm (possibly weak CAT 1 Hurricane) Edouard Tuesday morning.

A large ridge over the central United States is driving Edouard westward into the Northern Texas Coastline. Shear is becoming more favorable and Edouard will move over a pocket of very warm water in the northwestern Gulf. To the right are images of Stormgasm's target and the NHC landfall prediction; both are nearly identical, this is due to the relatively easy forecast situation with respect to landfall location, but intensity forecasting is not as simple...
| | | |
| --- | --- | --- |
| The image on the left show a long range radar image of precipitation associated with Tropical Storm Edouard. On the right is a visible satellite loop of Edouard; notice the well defined low-level spiral banding and good upper level outflow across the easter side of the cyclone. | | |
| | | |
| --- | --- | --- |
| The image on the left is a 500mb height map showing the synoptic situation across much of North America. The large ridge causing a record heat wave over the plains is shown along with troughing over the northern plains, which might help to slightly weaken the ridge and turn Edouard slightly northward before landfall. The image on the right shows SST's across the Gulf (where data is available), which shows very warm SST's over the northwestern Gulf where Edouard is moving. | | |
| | |
| --- | --- |
| Image on the right is the 12z 4 Aug 2008 GFDL model output image for Tuesday morning on the 5th. The GFDL numerical model forecasts Edouard to make landfall near High Island, Texas Tuesday morning. The meteorological data and analysis seems to support the GFDL's forecast. | |
Home | Storm Store | Photo Gallery | Message Board | Storm Chases | Latest News
Stock Footage | About | Contact | Editorial | Weather Links
All storm chasing (tornado, supercell, lightning, hail, sunset, ect.) photos and videos are copyright property of Jim Bishop and Simon Brewer (Stormgasm), unless otherwise specified. Any unauthorized reproductions are strictly prohibited by law.
Copyright 2004 Stormgasm.com. All rights reserved.