March 2, 2009 New England Nor'easter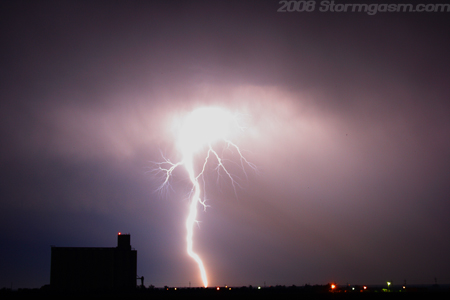 June 2, 2008: Simon and Juston Drake intercepted a supercell thunderstorm near the Kansas/Colorado border in northwestern Kansas at night. They documented frequent lightning from this storm before it dissapated. The two chasers intercepted another supercell northwest of Limon, Colorado later that night, which produced a multi-inch (~2 inches) deep hail swath across I-70 northwest of Limon, CO.

Image on the right shows a lightning strike behind a grain elevator in northwestern Kansas from the first storm.
Home | Storm Store | Photo Gallery | Message Board | Storm Chases | Latest News
Stock Footage | About | Contact | Editorial | Weather Links
All storm chasing (tornado, supercell, lightning, hail, sunset, ect.) photos and videos are copyright property of Jim Bishop and Simon Brewer (Stormgasm), unless otherwise specified. Any unauthorized reproductions are strictly prohibited by law.
Copyright 2004 Stormgasm.com. All rights reserved.