June 18, 2014
Alpena, SD Tornadoes
Juston Drake and Simon Brewer documented two tornadoes, one tornado was violent, near Alpena, SD on 18 June 2014. We waited most of the afternoon in southeastern South Dakota. Remnants of a low-level boundary near Sioux Falls, SD enhanced by outflow from the previous day had our attention. It didn't appear troughing aloft would move over this location, so it became more apparent storms might not develop off this boundary. Meanwhile, tornadoes were being reported to our northwest on a "tail-end Charley" supercell on the southern flank of a broken squall line. The CAP was strong again this day and we finally decided it probably wasn't going to break over Sioux Falls, so we jumped on the tornadic supercell approaching Woonsocket, SD.
We saw a developing wall cloud west of Woonsocket upon arrival. Within a few minutes a tornado developed. This tornado rapidly intensified into a violent stovepipe, which moved nearly due north. A short-lived rope tornado formed along the RFD gust front between our location and the intensifying tornado to our West. The primary tornado caused EF4 damage to a residence in its path. It also had probably the most visually spectacular rope-out stage of any tornado we've witnessed. Below are several images from the tornadoes we documented this day: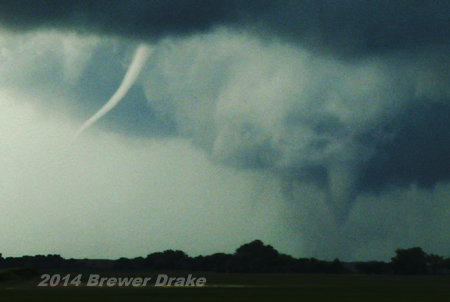 —18 June 2014 looking west at intesifying mesocyclone tornado in background with RFD gustfront rope tornado in foreground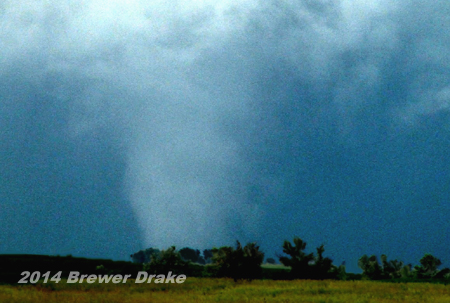 —18 June 2014 looking NNW at violent stovepipe tornado near Alpena, SD
(tornado showed violent motions appearing to be a max intensity ATTM)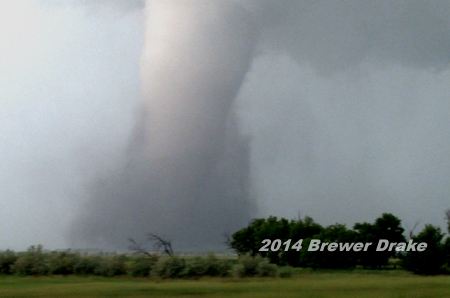 —18 June 2014 looking west at stovepipe tornado south of Alpena, SD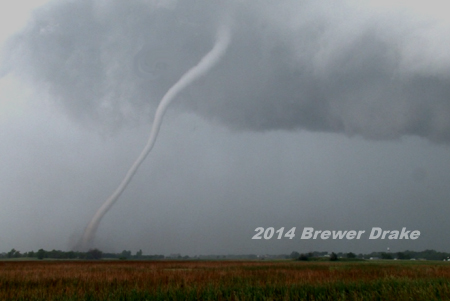 —18 June 2014 looking west at "Wizard of OZ" like tornado southwest of Alpena, SD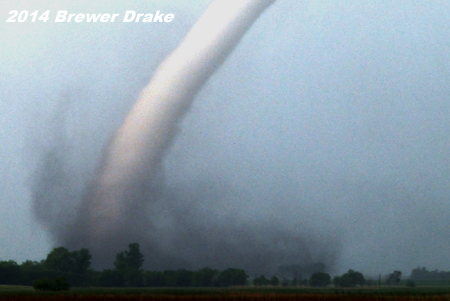 —18 June 2014 pushed in look at rope tornado southwest of Alpena, SD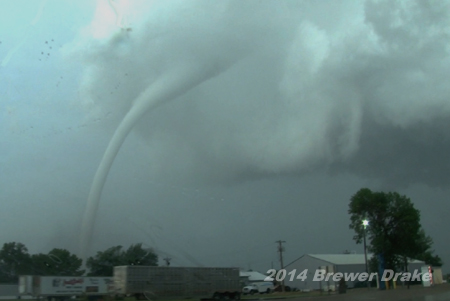 —18 June 2014 looing WNW at strong rope tornado west of Alpena, SD
(absolutely spectacular rope-out stage from this tornado)
Home | Storm Store | Photo Gallery | Stormtalk | Storm Chases | Latest News
Stock Footage | About | Contact | Editorial | Weather Links
All storm chasing (tornado, supercell, lightning, hail, sunset, ect.) photos and videos are copyright property of Jim Bishop, Simon Brewer, or Juston Drake(Stormgasm), unless otherwise specified. Any unauthorized reproductions are strictly prohibited by law.
Copyright 2014 Stormgasm.com. All rights reserved.