May 4th, 2007
Arnett, OK Tornado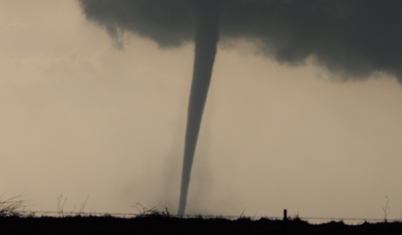 | | |
| --- | --- |
| My target was NW Oklahoma on the south-side of a bulg in a retreating dryline. Further north in KS dry air mixed ahead of the dryline weakening the moisture gradiant east and north of a pronounced dryline bulge east of Dodge City, KS. It appeared increasing moisture advection against the retreating dryline on the south side of the bulge over NW OK might provide enough convergence to break the strong CAP. The forecast verified and a few LP-supercells fired near Arnett, OK, the southern cell quickly organized and developed tops over 60,000 feet! This pic is looking WSW at the developing storm, which is on the TX/OK border southwest of Arnett, OK. | |
| | |
| --- | --- |
| Looking west at the left-split of the developing Arnett supercell. | |
| | |
| --- | --- |
| I was south of Arnett, OK on a dirt road at this time and shot this pic looking WSW. I was surprised, because I didn't see any other chasers yet, but I knew they would be swarming to this storm eventually. | |
| | |
| --- | --- |
| Supercell was rapidly developing and appeared to already have a well developed mesocyclone. | |
| | |
| --- | --- |
| Structure was really looking good at this time, but to my surprise it just kept getting better... | |
| | |
| --- | --- |
| I had to get this shot, but it cost me BIG TIME footage! I was on my way to get under the updraft and have an upclose and personal tornado encounter, but instead saw this windmill with incredible supercell structure in the background and I just had to stop and snap away dozens of pictures. | |
| | |
| --- | --- |
| Finally I tore myself away from the windmill, but now there was a rapidly developing wall cloud to my west and I stopped afraid I might miss good video of tornado genesis. The wall cloud is about 3 miles away at this point. | |
| | |
| --- | --- |
| INSANE STRUCTURE!!!! I could care less at this time if I saw a tornado on this day, because the structure was just amazing! Completely textbook structure! | |
| | |
| --- | --- |
| I'll try to get some video stills up sometime, but this is a quick pic I took before I repositioned for what I thought would be another tornado developing very close to my location. The storm had cycled and a new rapidly rotating wall cloud was very close to me, but the CAP was already cutting off the updraft and the storm never produced another tornado. | |
| | |
| --- | --- |
| Though this tornado was small it still was intense. It could probably cause F4 damage if it were to hit a well built house at its mose intense phase. Even as a skinny rope this tornado showed multiple vorticies near ground level! The video is okay, but I could have gotten right next to the thing like my friend Reed Timmer. He got some incredible video as it crossed the road in front of him, but he missed the structure...whatever, close encounter with an awesome tornado always trumps structure! I'll be kicking myself for a while. | |
| | |
| --- | --- |
| Tornado roped out and now the storm cycles rapidly and slowly dies. I pieced together 3 pics to get this wide view of the base. | |
| | |
| --- | --- |
| Vault shot | |
| | |
| --- | --- |
| Another vault shot, notice how sculpted the updraft was in this shot; that is a good sign the CAP is very strong, which gives beautiful structure shots, but is bad for tornadoes. | |
| | |
| --- | --- |
| Baseball-sized hail was everywhere; my friend Adam posed his hand for me. | |
| | |
| --- | --- |
| Close-up of Adam's hand and the hail. | |
| | |
| --- | --- |
| Adam and some of the guys with him take pics of the storm, so I took a pic of them taking pics. | |
| | |
| --- | --- |
| Nice structure! | |
| | |
| --- | --- |
| By myself again on a nicely paved road I stop and play with the hail. | |
| | |
| --- | --- |
| Some of the hail stones were close to softball-size. | |
| | |
| --- | --- |
| I really like this picture. | |
| | |
| --- | --- |
| Same stones, but different angle. While I was having fun with the hail the storm was getting away to the northeast. The updraft passed across the south side of Woodward, OK, so the majority of Woodward took some serious hail. | |
| | |
| --- | --- |
| This was actually an occluded meso from my storm, but unlike most occluded mesos that evaporate this one kept going as its own little LP storm. Shot was takine looking NW. | |
| | |
| --- | --- |
| I was on the south side of Woodward at the time of this pic and I was looking due east at part of the back side of the updraft. The main part of Woodward was taking some good sized hail at this time. | |
This just might be my favorite shot of an LP supercell (that I've taken)... It reminds me of a picture Gene Moore captured years ago of an LP supercell at sunset (sorry I can't find the picture on his website), but his pic is my favorite LP picture.

ENE of Woodward, OK at the time of this shot and I was looking WNW.
| | |
| --- | --- |
| Beautiful storm! | |
| | |
| --- | --- |
| Earlier this storm had been a 'beast', but now it is just a beautiful sculpture. I tried to get the color of the red dirt road and the details of the updraft, but it is kind of washed out. | |
| | |
| --- | --- |
| Oklahoma May sunsets can have extraordinary color due to high atmospheric moisture and particle content. | |
Alpen glow at sunset on as the last bits of visible wavelength solar radiation hits the updraft of the all but dead supercell northeast of Woodward, OK.

Not long after this picture the Greensburg, KS storm developed and produced many violent night time tornadoes; one was a 2-mile-wide monster EF5 that passed through Greensburg destroying the town and killing many people. The situation reminded me of the May 22, 2004 Hallem, NE tornado. I was already heading back to Norman, OK due to school obligations, otherwise I would have drove due north to intercept the Greensburg, KS storm.
Home | Storm Store | Photo Gallery | Message Board | Storm Chases | Latest News
Stock Footage | About | Contact | Editorial | Weather Links
All storm chasing (tornado, supercell, lightning, hail, sunset, ect.) photos and videos are copyright property of Jim Bishop and Simon Brewer (Stormgasm), unless otherwise specified. Any unauthorized reproductions are strictly prohibited by law.
Copyright 2004 Stormgasm.com. All rights reserved.