May 31 Record Mega-Wedge
El Reno OK EF5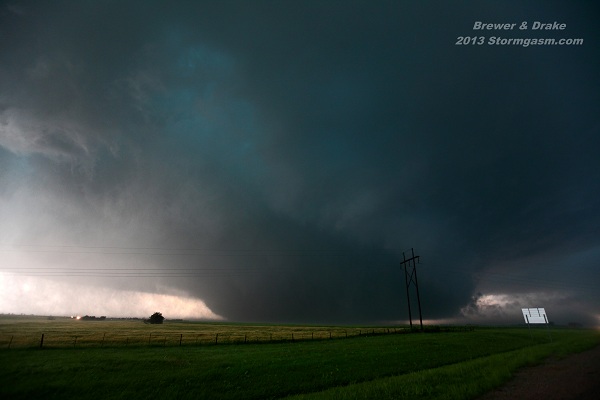 Image above shows EF5 El Reno Tornado at maximum width of 2.6 miles south of city
Juston Drake and Simon Brewer, and nearby Jim Bishop and Jesse Duncan in another vehicle, documented the new record measured widest tornado in history near El Reno, OK on May 31, 2013 breaking the old record of 2.5 miles in diameter measured with the Hallam, NE tornado on May 22, 2004. The torando was rated an EF5 based on mobile radar measurements, which might yield the highest wind measurements ever recorded near the surface with a tornado possibly breaking the previous high wind measurement recorded with the infamous May 3, 1999 Bridgecreek/Moore OK F5 tornado. Unfortunately, this tornado also cost the lives of many people including several storm chasers.
Below are a few photos from the deadly El Reno EF5 tornado: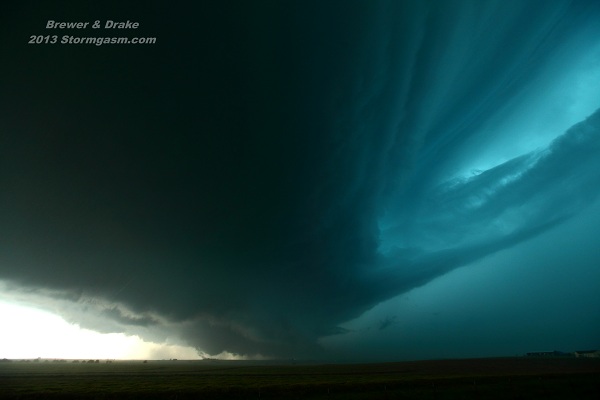 Supercell & large bowl-shaped multivortex tornado about 4 miles to our South (insane vault structure)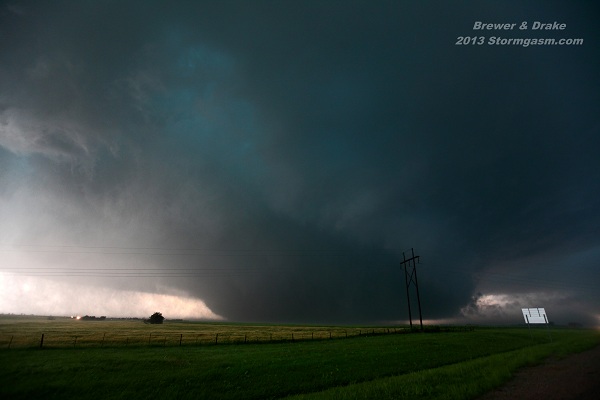 looking SW at 2.6 mile wide "mega-wedge" tornado about 1 mile to our Southwest
(image above shows El Reno tornado at it's maximum width and intensity)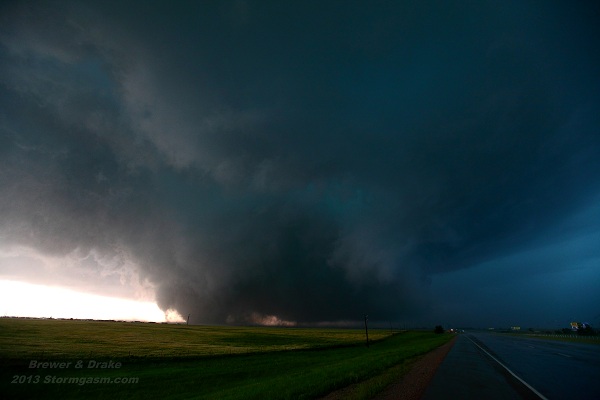 image above: El Reno EF5 tornado in "mega-multivortex" stage approaching I-40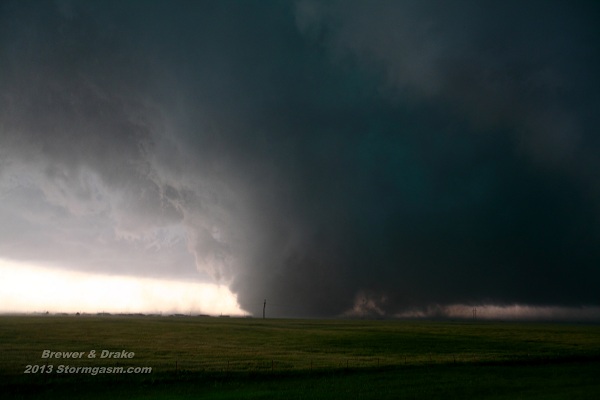 image above: El Reno EF5 in "mega-multivortex" stage approaching I-40
Home | Storm Store | Photo Gallery | Stormtalk | Storm Chases | Latest News
Stock Footage | About | Contact | Editorial | Weather Links
All storm chasing (tornado, supercell, lightning, hail, sunset, ect.) photos and videos are copyright property of Jim Bishop and Simon Brewer (Stormgasm), unless otherwise specified. Any unauthorized reproductions are strictly prohibited by law.
Copyright 2012 Stormgasm.com. All rights reserved.