May 20 Moore OK EF5 Tornado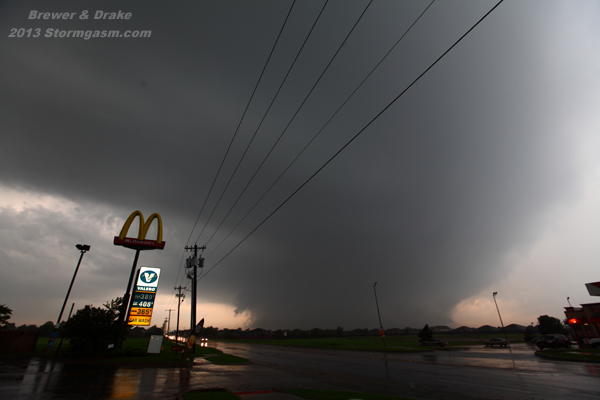 Massive wall cloud with violent EF5 Moore wedge hidden underneath
Juston Drake, Jim Bishop, and Simon Brewer documented three tornadoes, one a violent tornado, which tore through the City of Moore, OK killing at least 24 people and causing incredible damage. Some damage caused by the tornado was rated EF5 at the Briarwood Elementary School only blocks from Juston's home. We later discovered Juston's house was fortunate, but many of his neighbor's homes were not. Only a few houses north suffered significant damage from inflow and RFD winds, and a block north all of the homes are heavily damaged or gone in the violent tornado path.
Juston, Jim, and I were all in seperate cars following each other navigating Oklahoma City streets in heavy traffic as the forward flank of the Moore tornadic supercell rained on our location. Eventually, we dropped off Juston's car and were able to gain a visual of the wedge-shaped Moore tornado as it approached I-35 to the southwest of our location. We reported the tornado's location as it passed to our southwest and south. We then paralleled the tornado from the north reporting its position as it transitioned into a stovepipe and roped-out east of Moore. The tornado was very difficult to see as precip and incredible amounts of debris surrounded the vortex. We've never before seen so much debris raining from the sky around a tornado.
We continued to follow the supercell along I-240 and it produced a brief and weak tornado to our north, but it appeared to be struggling with cooler stable air near the surface. We then dropped south and east intercepting several supercells before documenting a tornado west of the small town of Wapanucka in southern Oklahoma. The cell responsible for the last tornado of the day became part of a large MCS, which raged over eastern Oklahoma.
Several days later (May 22) we had the rare opportunity to perform a brief survey of the Moore OK tornado damage path. We noted the incredible amount of damage merely from the signicant inflow jets feeding into the tornado. The more significant region of damage from Briarwood Elementary to Plaza Towers Elementary School was extraordinary. Probably the most interesting damage was found to be a displaced segment of bridge parallel to Interstate 44. This bridge damage is similar to bridge damage found with the Tuscaloosa AL tornado from April 27, 2011. It is currently unknown what winds would be needed to cause this type of damage. It would be very difficult to recreate in a lab environment and can only be estimated to be high-end winds.
Comparisons have been raised between this tornado, the great Bridgecreek/Moore tornado of 1999, and the May 8 2003 Moore/OKC Tornado. The 1999 and 2013 Moore tornadoes were definitely stronger, more destructive, deadlier, and most likely had significantly higher winds than the 2003 tornado. The 1999 tornado had a longer damage path and was most likely at it's maximum intensity near Bridge Creek and still caused incredible damage to Moore. The 2013 tornado had a wider and arguably more intense damage path within the Moore City limits. Due to lack of data it will be impossible to say which tornado was the most intense.
Below are a few photos from May 20th and damage from the Moore EF5 tornado: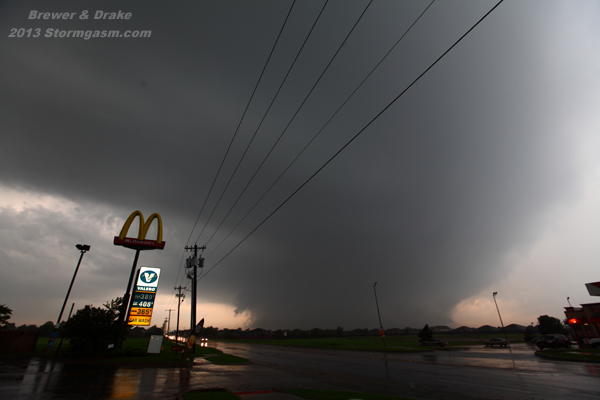 I-240 & Sooner Rd looking SW at massive wall cloud & debris hiding wedge-shaped Moore OK EF5 Tornado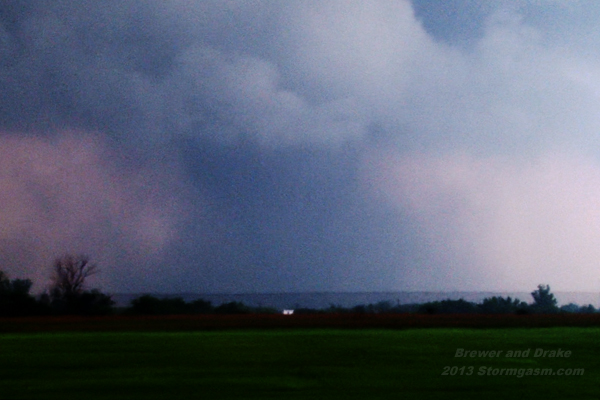 Violent Moore Tornado shrinks to a cone-shape after crossing I-35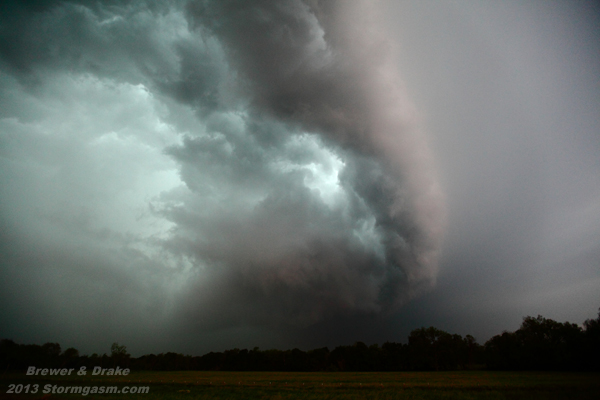 occlussion & rain-wrapped tornado west of Wapanucka Oklahoma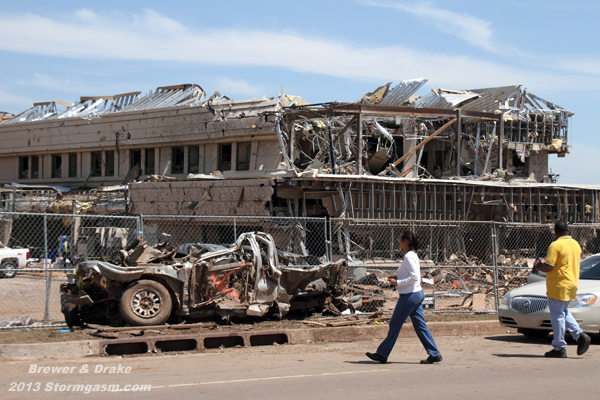 Heavily damaged Moore Medical Center and crumpled vehicle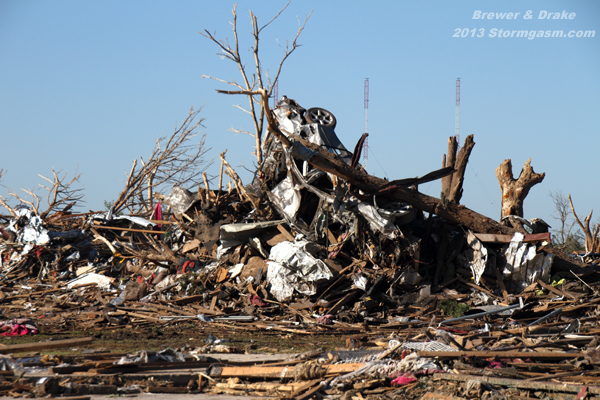 piles of debris formed from wind-rowing when neighborhoods were obliterated by EF5 Moore Tornado
Home | Storm Store | Photo Gallery | Stormtalk | Storm Chases | Latest News
Stock Footage | About | Contact | Editorial | Weather Links
All storm chasing (tornado, supercell, lightning, hail, sunset, ect.) photos and videos are copyright property of Jim Bishop and Simon Brewer (Stormgasm), unless otherwise specified. Any unauthorized reproductions are strictly prohibited by law.
Copyright 2012 Stormgasm.com. All rights reserved.