May 19 Oklahoma Tornado Outbreak
Shawnee, Carney, & Edmond OK Tornadoes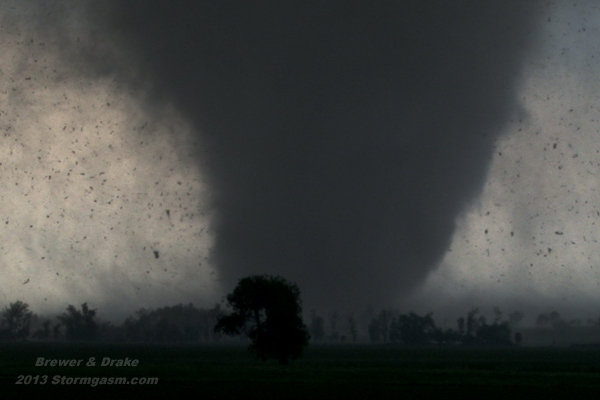 Image above shows violent tornado west of Shawnee OK
Juston Drake, Jim Bishop, Mikey (Juston's sister), and Simon Brewer documented four tornadoes (two were violent) over Central Oklahoma on May 16 2013. The environment over Central Oklahoma had be incredibly unstable with very high wind shear during the afternoon of May 18th. Juston and Simon later calculated the near storm effective layer EHI (Energy-Helicity Index) Values to be in the 12-18 range or possibly higher, which is an environment conducive high end violent tornadoes. We documented a damaging tornado in Edmond and another near Arcadia (we originally had thought the Arcadia tornado to be the same tornadic circulation as the Edmond tornado). The same supercell thunderstorm quickly cycled again producing a very powerful long-track tornado, which passed near Fallis and Carney OK. We documented this tornado on gravel and mud roads near Fallis as it quickly developed into a large violent multivortex wedge tornado. Our road options were poor and we were forced to leave the tornado and reposition north of Carney due to concerns for our safety. The incredibly violent multivortex motions on the Carney tornado were insane, also, the large ground-scraping tail cloud was feeding into the wall cloud at a remarkable speed. The tornado became rain-wrapped northeast of Carney and we dropped south to a rapidly intensifying supercell near Norman. We passed a well-developed LP supercell en route to the Norman storm.
We gained sight of the Norman supercell and large multivortex tornado near Dale OK on Interstate 40 west of Shawnee. The storm's updrat had an imense base making the large wall cloud and intense tornado look small in comparison. The tornado was violent in the visible multivortex stage, which eventually condensed into a wedge tornado and then transitioned into a super-violent stovepipe. The tornado appeared to be the most visually intense we've ever seen, and can only be compared to footage of the April 26, 1991 Andover, KS F5. The tornado obliterated mobile homes, easily wiped a well-built home clean from the earth, and plucked massive hundred plus year-old Cottonwood trees tossing them like sticks. The tornado moved northeast, parked for a few moments partially over I-40, then turned east, and finally began to weaken and moved more northeast across I-40 over the northwest edge of Shawnee. We were caught behind a temporary police road block on I-40 and watched the tornado move away, also, missed the tornadoes near Prague. It was very fortunate the Carney and Shawnee tornadoes passed over relatively undeveloped/unpopulated areas, because both tornadoes probably could have caused EF5 damage to a heavily populated area.
Below are a few photos from Oklahoma Tornado Outbreak: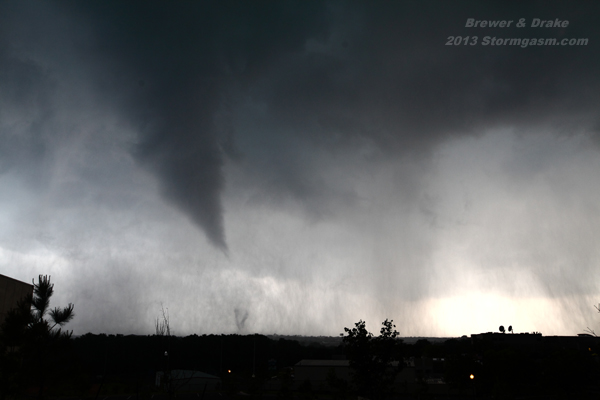 Photo above shows multivortex cone tornado over Edmond OK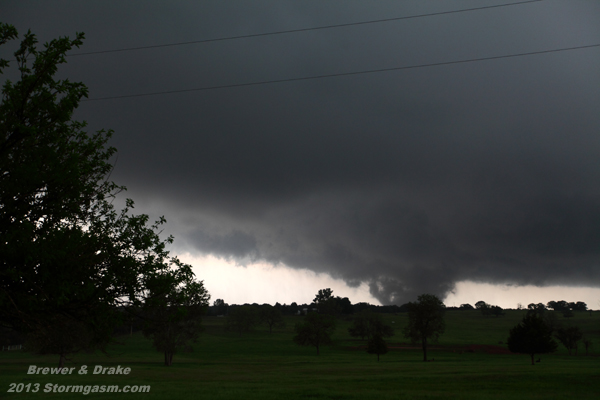 Image above shows large a powerful multivortex wedge tornado near Fallis OK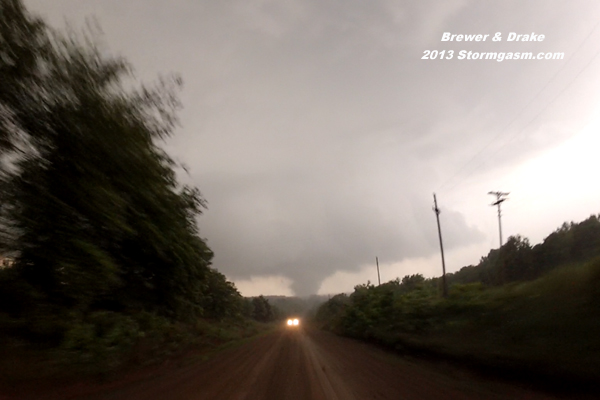 Super-wide angle shot of chasers avoiding violent Carney tornado on mud road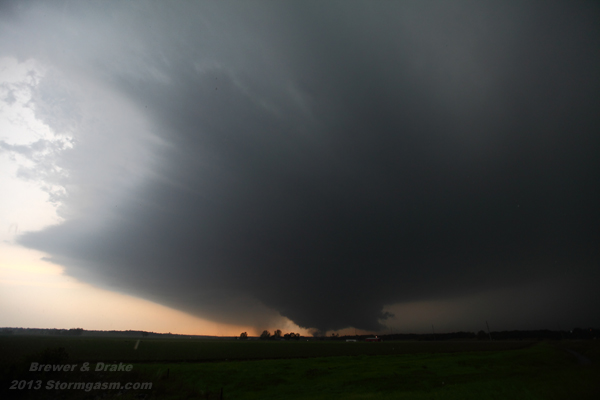 Massive supercell updraft base, large wall cloud & violent Multivortex tornado SW of Dale OK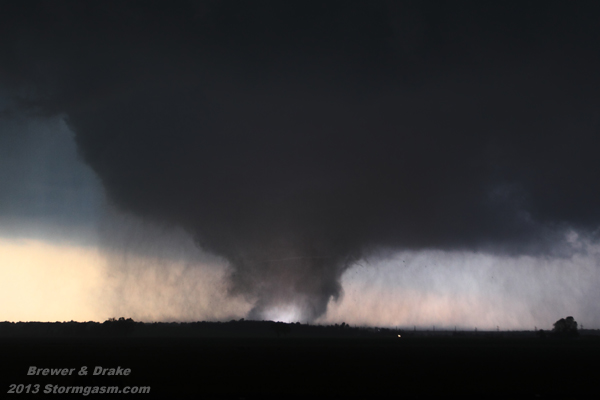 Violent stovepipe tornado illuminated by powerflash west of Shawnee OK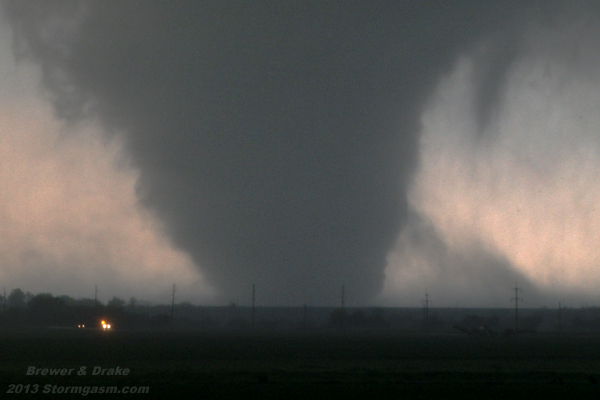 Incredible inflow jets race into violent tornado west of Shawnee OK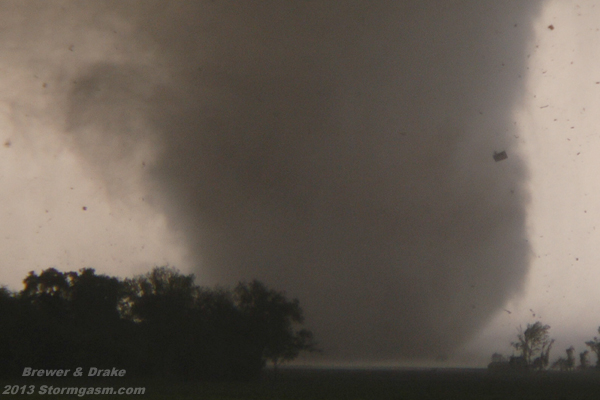 Large debris lofted by violent stovepipe-shaped tornado West of Shawnee OK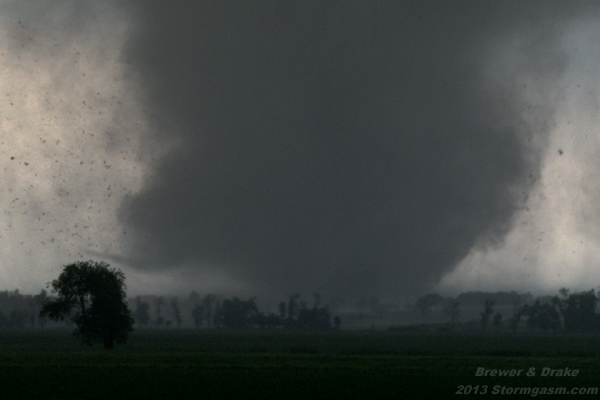 Horizontal vortex visible feeding into bottom of parent tornado vortex West of Shawnee OK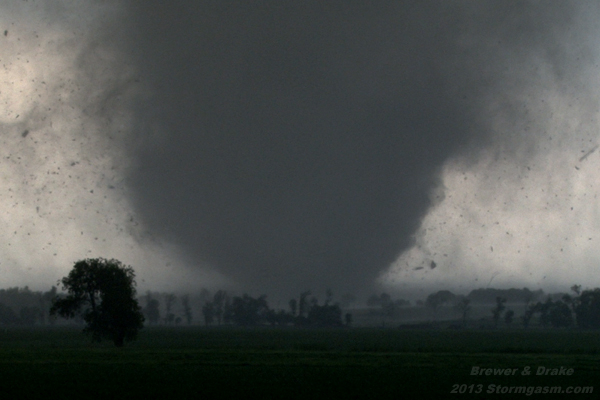 Debris fills sky as well-built house & several mobile homes are obliterated in Bethel Acres OK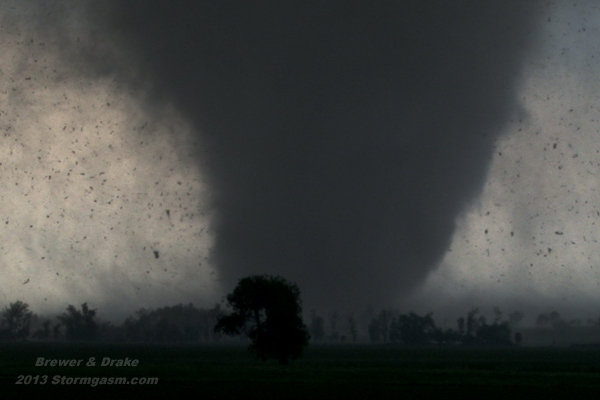 violent stovepipe-shaped tornado rips through Bethel Acres west of Shawnne OK
Home | Storm Store | Photo Gallery | Stormtalk | Storm Chases | Latest News
Stock Footage | About | Contact | Editorial | Weather Links
All storm chasing (tornado, supercell, lightning, hail, sunset, ect.) photos and videos are copyright property of Jim Bishop and Simon Brewer (Stormgasm), unless otherwise specified. Any unauthorized reproductions are strictly prohibited by law.
Copyright 2012 Stormgasm.com. All rights reserved.