Chase started with me (Simon) and Jim leaving Norman around 10:45am. We decided to play the cold front in Northwestern Oklahoma, near Woodward, OK. We didn't think the SPC's MCC forecast for the day was correct.

We sat in Woodward till around 4:30pm. We decided to head farther west until hearing reports from friend and nowcaster Reed Timmer that cells were developing in the Western OK Panhandle Region.

While south of Beaver, OK we saw a tower develope to our SE, which was near Allison, TX. We took off on SR 83 in the TX Panhandle for that cell. We caught the cell near Reydon, OK.

The cell died upon arrival in Reydon, but was still dropping quarter-sized hail on my head. The outflow formed an awsome night-time LP to the west just into TX.

After shooting lighting pictures of that awesome LP another supercell approached our location. 'I'm tellin ya' this was a monster HP supercell. That HP was producing softball-sized hail only a mile to our west and had a huge wall cloud.





Amazing Allison, TX Supercell


Amarillo Supercell


Storm Splitting Cont.






These are pictures of the left-split supercell, which originated from the Allison, TX supercell. That is my (Simon's) dirty hand holding that quarter-sized hail stone with a nickel, because Jim could not find a quarter and I was still getting pelted by hail.

Those sunset photos show an incredible inflow band feeding into the newly developed LP to our west.



...Finally Approaching Supercell Near OK/TX Border


Left mover with
midlevel funnel!


Finally Make it to storm's
base over Reydon, OK.



These are pictures of the nightime LP, which is illuminated by lightening. The striations on that supercell were nothing less than amazing.

After we began chasing the Monster HP, which there are no photos of, the window of our car jammed in the 'open' position!

Surrounded by storms we had the goal of not getting the inside of the car wet. So we managed to get very close to the wall cloud of this monster HP just east of the town of Strong City, OK. At this point we saw a very large cone tornado shrouded in dirt and milk cartons (?). One of those milk cartons hit the front of our car.

Miraculously we made it back to Norman without getting the car wet. I managed to fix Jim's window just before Norman got plowed by a large Bow Echo.

LOTS of Supercells this Day, not forecasted by SPC.











Take a look at these radar images from this day..doesn't look like an MCS, does it?
Check out these Storm Relative Velocity Radar Images in UTC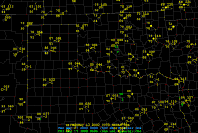 00:00 UTC Surface, 850mb, and 500 mb Map
All storm chasing (tornado, supercell, lightning, hail, sunset, ect.) photos and videos are copyright property of Jim Bishop and Simon Brewer (Stormgasm), unless otherwise specified. Any unauthorized reproductions are strictly prohibited by law.
Copyright 2004 Stormgasm.com. All rights reserved.