May 15 Texas Tornado Outbreak
Ringold TX Tornado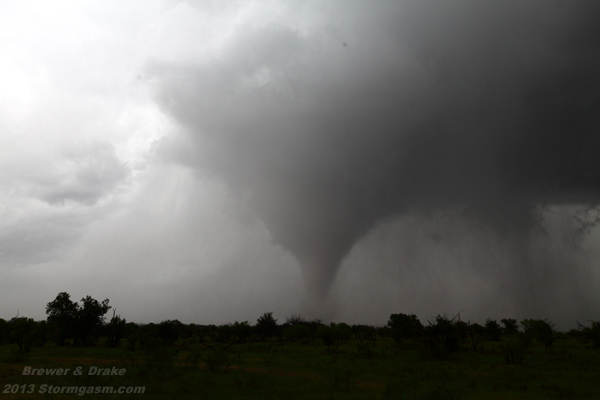 Image above shows large cone tornado north of Highway 82 several miles east of Ringold TX
Juston Drake and Simon Brewer documented a large torando a several supercells in North Texas on May 15 2013. A closed mid-level low was progressed over Central Oklahoma and North Texas on May 15 providing relatively cold mid-level temperatures, significant lift, and high shear combined with deep Gulf of Mexico moisture for a tornado outbreak. We intercepted the first significant supercell near Ringold TX. The storm rapidly intensified dropping baseball-sized hail over and around the town of Ringold. A large rapidly rotating mesocyclone quickly developed and produced a relatively long-lived tornado east of town. Initially, the tornado was a multivortex bowl funnel south of Highway 82. The tornado crossed Route 82 and intensified into a stout cone tornado periodically wrapped in heavy rain and hail. The tornado tracked nearly due north and had spectacular rope-out stage as it dissipated.
The storm continued to cycle, so we repositioned north of Nocona TX after getting much needed fuel in town. The new mesocyclone was much larger and appeared much stronger than the first near Ringold. It appeared there may have been a few brief multivortex touchdowns and we found ourselved under the edge of the monster meso as rainbands wrapped around our location. We had to rapidly back off to the south a few times to avoid a dangerous situation. The monster meso became rain-wrapped just as it appeared a monster tornado was about to develop, and one may have developed in the rain, and our road options were limited by the Red River to the North and East, so we opted to drop south to a new storm south of Bowie TX.
We intercepted our target storm in the town of Alvord TX. The storm was a massive HP supercell and storm spotters had reported a tornado with it before we intercepted the cell. We documented a rotating wall cloud near the town of Alvord and saw rain bands rotating at times, but couldn't see a concentrated area of rotation. The RFD was plowing east quickly and the road network was less than perfect. Our road options forced us to drive northeast again into the core to avoid putting us in danger of a rain-wrapped tornado, so we lost visual of the storm for a significant period of time. We reintercepted the storm west of Slidell TX and were confronted with a barrage of CG lightning in the vault and a massive ground-scraping wall cloud with a rapidly feeding tail cloud. It appeared a large tornado was possibly wrapped in the rain, but we weren't certain as it was getting darker by the second. The supercell had an intense couplet on radar, but we couldn't get a 100% visual confirmation of a tornado.
Below are a few photos from the Ringold Texas tornado: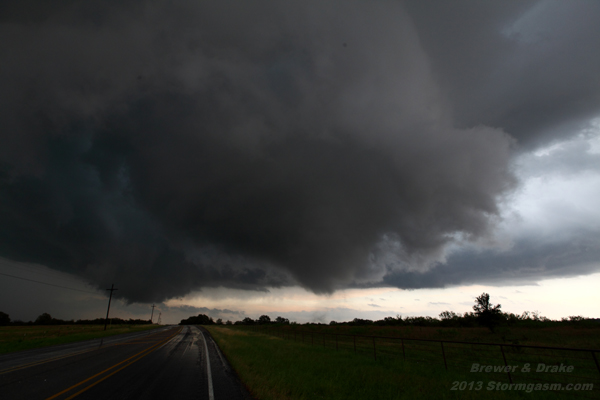 Large bowl-shaped multivortex tornado crossing Route 82 East of Ringold Texas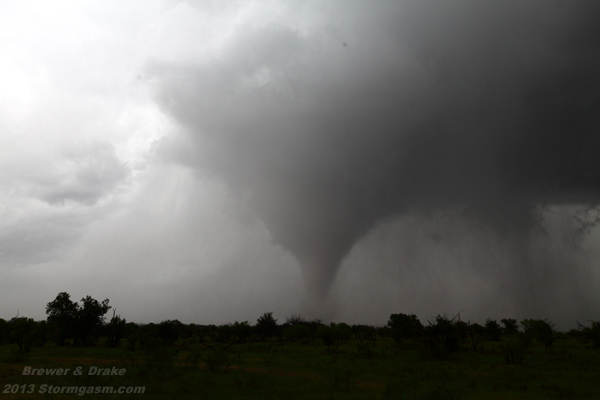 Image above shows tornado near max intensity east of Ringold Texas
image above: Ringold TX tornado roping-out/dissipating stage
Home | Storm Store | Photo Gallery | Stormtalk | Storm Chases | Latest News
Stock Footage | About | Contact | Editorial | Weather Links
All storm chasing (tornado, supercell, lightning, hail, sunset, ect.) photos and videos are copyright property of Jim Bishop and Simon Brewer (Stormgasm), unless otherwise specified. Any unauthorized reproductions are strictly prohibited by law.
Copyright 2012 Stormgasm.com. All rights reserved.