May 12, 2004 Southern Kansas Tornadoes
Simon, Jim, and Mark were still bleeding from the bust in South Dakota on Tuesday, but they drove all night to South Central Kansas and waited for storms to fire late Wednesday. The forecast was easy: high CAPE, good shear, frontal intersection, and breakable cap. Storms fired and we picked the storm southwest of Medicine Lodge, KS and that decision paid off! Watched a beautiful Kansas cone SW of Sharon, KS. We then drove a few miles east and witnessed a rare event: two funnels directly overhead were initially seperate, but then the tips of the funnels touched and joined to form a U-shaped funnel directly overhead...that was awesome, but it cost us the priviliage of watching the begining stages of the Attica tornado. We raced east and saw the middle and end of the Attica tornado. We continued east and witnessed a stovepipe east of Attica. We then drove further east and witnessed the formation of a wedge tornado south of Harper, KS. We then witnessed the formation of a couple nighttime tornadoes. We also saw some satellite tornadoes on this day. About 8 or 9 tornadoes in all on this great day. The best part of the chase had to have been the wedge formation south of Harper under that 'unbelievable' meso, while getting pounded with golf ball and baseball sized hailstones.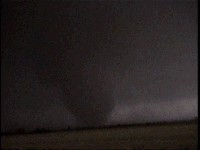 View Video Clip (2.9mb, 104 seconds)

| | | | |
| --- | --- | --- | --- |
| | | | |
| | | | |
| "Swirl-like" funnel | Two funnels connected | | |
| | | | |
Below are few low quality video stills of the stovepipe that evolved into a wedge near dusk-images appear darker than it really was at that time.
More photos coming soon...
Home
|
Storm Store
|
Photo Gallery
|
Message Board
|
Storm Chases
|
Latest News
Stock Footage
|
About
|
Contact
|
Editorial
|
Weather Links
All storm chasing (tornado, supercell, lightning, hail, sunset, ect.) photos and videos are copyright property of Jim Bishop and Simon Brewer (Stormgasm), unless otherwise specified. Any unauthorized reproductions are strictly prohibited by law.
Copyright 2004 Stormgasm.com. All rights reserved.