April 23rd Oklahoma & Texas
SW OK & NW TX High-Based Supercells
Juston Drake and Simon Brewer documented 3 supercell thunderstorms during the afternoon and evening hours of 23 April 2014 over Southwest Oklahoma and Northwest Texas. The low-level environmental moisture was relatively low and shallow in depth causing the storms this day to be fairly high-based. We documented a large cell as it tracked from Wellington, TX into western Oklahoma. We dropped south after more isolated cells West of Wichita Falls over Northwest Texas. These storms were also high-based and witnessed large hail and a spectacular sunset behind the storms.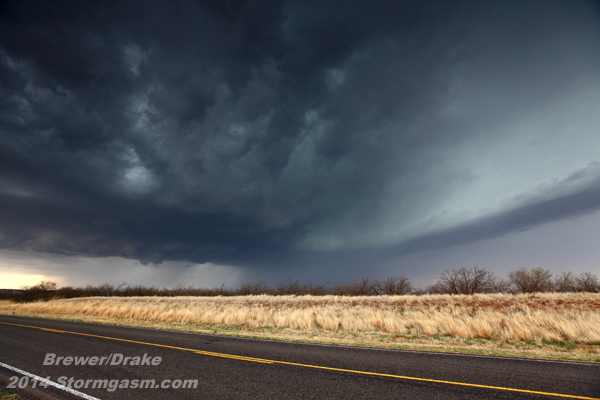 —23rd April 2014 high-based supercell over OK/TX border east of Wellington, TX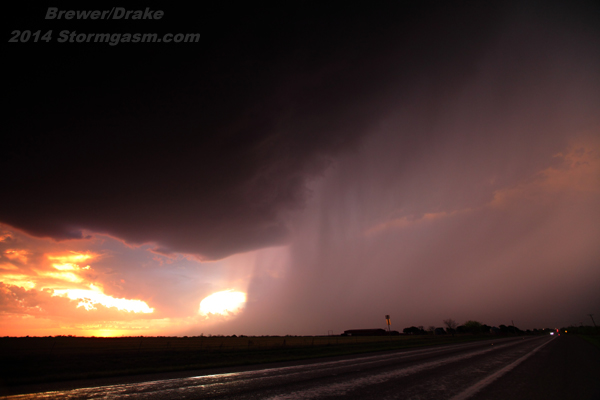 —23rd April 2014 high-based supercell with colorful sunset in background west of Wichita Falls, TX
Home | Storm Store | Photo Gallery | Stormtalk | Storm Chases | Latest News
Stock Footage | About | Contact | Editorial | Weather Links
All storm chasing (tornado, supercell, lightning, hail, sunset, ect.) photos and videos are copyright property of Jim Bishop, Simon Brewer, or Juston Drake(Stormgasm), unless otherwise specified. Any unauthorized reproductions are strictly prohibited by law.
Copyright 2014 Stormgasm.com. All rights reserved.