April 20th Eldorado, OK Tornado
Southwest OK Tornadic Supercell
Juston Drake and Simon Brewer documented supercell thunderstorm over Northwest Texas and Southwest Oklahoma. We intercepted a high-based outflow-dominant supercell east of Memphis, TX. It produced high winds, gustnadoes, and quarter-sized hail, but new updrafts were continuously feeding into the storm giving it problems. South of Hollis, OK along the Red River the storm reorganized and became a monster HP supercell. We were able to get back in front of the updraft west of Eldorado and were blown away by the impressive structure. There was a rapidly rotating wall cloud, a ground-scraping tail cloud, beaver's tail, and several mid-level inflow bands. The supercell was taking advantage of a narrow corridor of instability against an outflow boundary. We witnessed one brief tornado before rain-bands wrapped around the circulation hiding it from our view.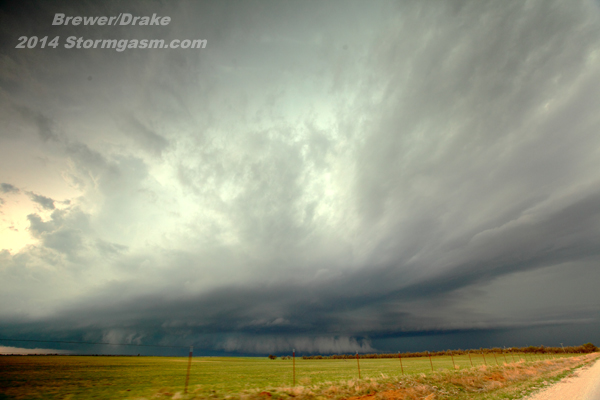 —20th April 2014 amazing supercell structure west of Eldorado, OK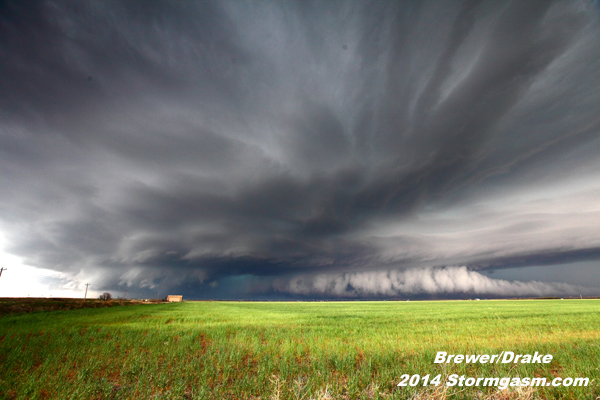 —20th April 2014 nearly perfect supercell structure west of Eldorado, OK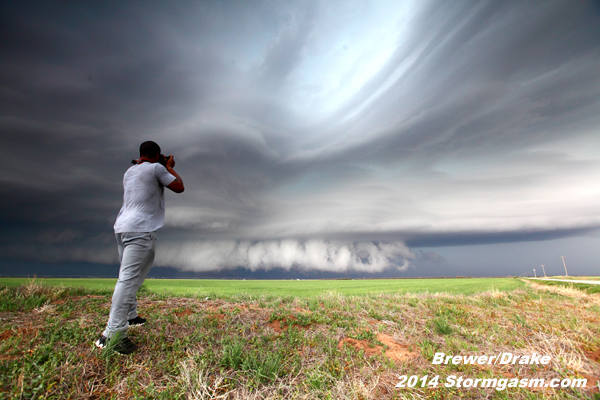 —20th April 2014 Juston Drake photographs inflow bands: beaver's tail, tail cloud, & mid-level bands near Edorado, OK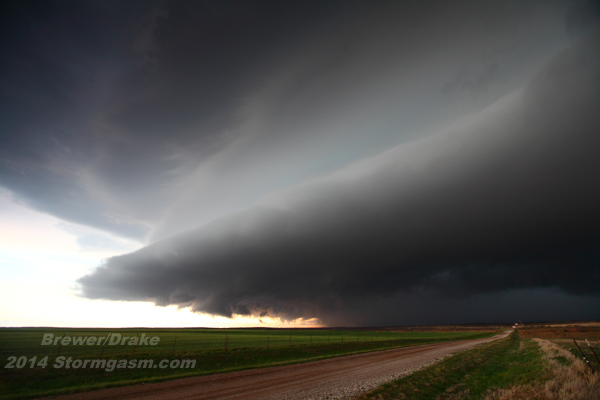 —20th April 2014 dramatic RFD shelf cloud over Eldorado, OK
Home | Storm Store | Photo Gallery | Stormtalk | Storm Chases | Latest News
Stock Footage | About | Contact | Editorial | Weather Links
All storm chasing (tornado, supercell, lightning, hail, sunset, ect.) photos and videos are copyright property of Jim Bishop, Simon Brewer, or Juston Drake(Stormgasm), unless otherwise specified. Any unauthorized reproductions are strictly prohibited by law.
Copyright 2014 Stormgasm.com. All rights reserved.