March 2nd Ohio River Valley
Tornado Outbreak
Henryville, IN Tornado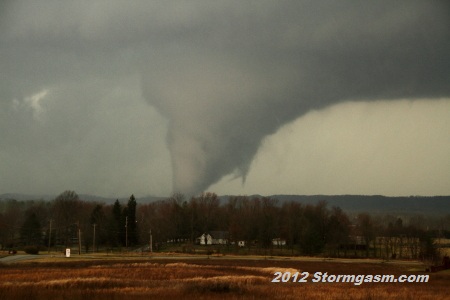 Video is below (much lower quality than actual, which was shot in HD):
Please contact Jim Bishop (stormgasm@yahoo.com, 203.461.0679 for licensing)
Jim Bishop and Simon Brewer documented three tornadoes in Southeast Indiana including a violent tornado, which passed 3 miles north of their location causing significant damage to Henryville, IN. A very intense upper-level jet streak combined with deep Gulf moisture to create an environment conducive for long-track violent tornadoes across the Ohio and Tennessee River Valleys.
Jim and Simon dropped south of a warm front in a region of high instability and ridiculous shear and intercepted a long-lived supercell in southern Indiana 16 miles north of Louisville, KY: The radar showed an amazing signiture for the supercell to our WSW. The storm was moving very quickly at 40-60 mph. We decided position 3 miles south of Henryville, IN near I-65. The terrain and trees were not conducive for good visuals of the storm, so we decided to wait for the tornado to approach our location. It wasn't long before we could see very good supercell structure and a massive wall cloud. Soon a very large stovepipe-shaped tornado was visible about 20-25 miles (maybe more) to our southwest. The tornado rapidly changed shapes with violent motions and multiple vorticies (horizontal vorticies were common). The tornado closely resembled the violent 2011 EF4 Tuscaloosa, AL tornado. The tornado passed 3 miles to our north causing significant damage to Henryville, IN.
We let the supercell go to our ENE and waited for a second supercell quickly approaching from our WSW. It produced a large tornado to our north very close to Henryville and we were nearly hit by a second older rain-wrapped tornado hidden by the wet RFD. Our area was hit by large golfball to baseball-sized hail from the RFD of this storm.
We eventually were forced to drive a significant distance south and west to exit the devestated region. On highway 135 north of Palmyra, IN we encountered the damage path of the first tornado we documented. The damage to the highway was worse than any I've seen or heard of in other damage reports. Large thick slabs of asphalt (some 8-12 inches thick) were tossed tens of meters from the highway causing deep gouges and impact craters east of the road!
Below are a few photos from the deadly Henryville, IN tornado: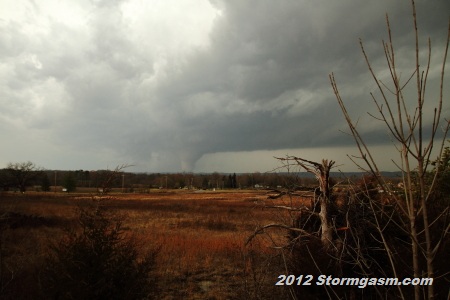 Supercell and large stovepipe-shaped tornado about 20-25 miles to our WSW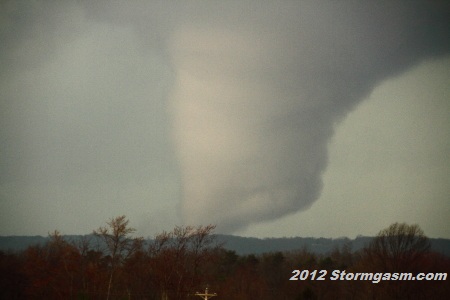 Cone/Stovepipe/Multivortex tornado; violent motions and horizontal vorticies were witnessed at this time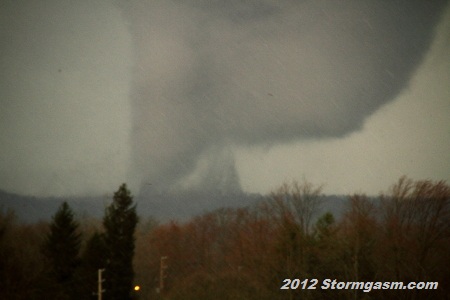 Violent tornado motions with rain and hail in the foreground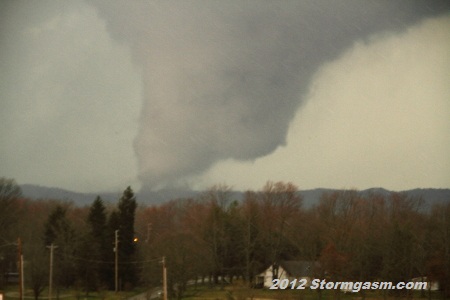 Tornado continued to show violent multivortex motions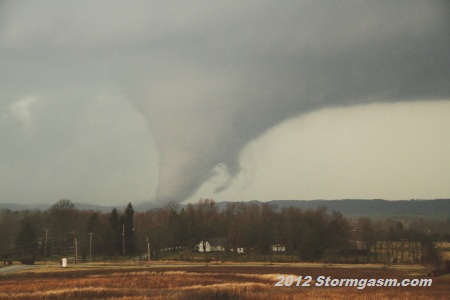 Tornado with violent multivortex motions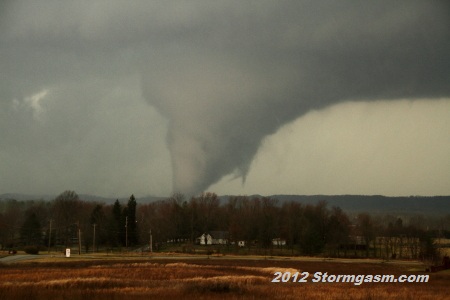 Tornado approximately 5-10 miles to our west; it strongly resembled the 2011 EF4 Tuscaloosa, AL tornado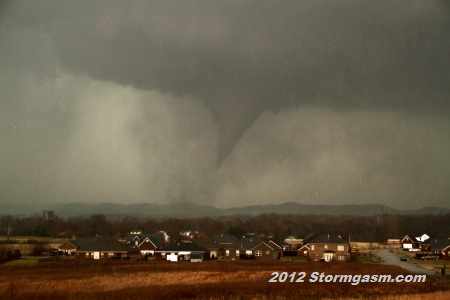 Simon and Jim repositioned; looking northwest at tornado as it approached Henryville, IN; visually it seemed to weaken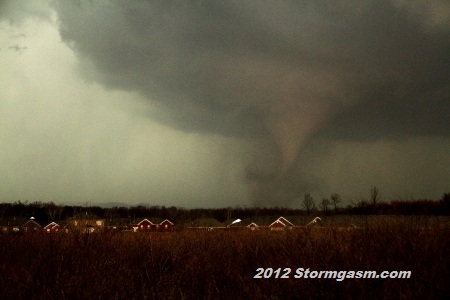 Tornado beginning to pass over Henryville, IN 3 miles to the north; tornado appeared to reintensify
Large hailstones 3 miles south of Henryville, IN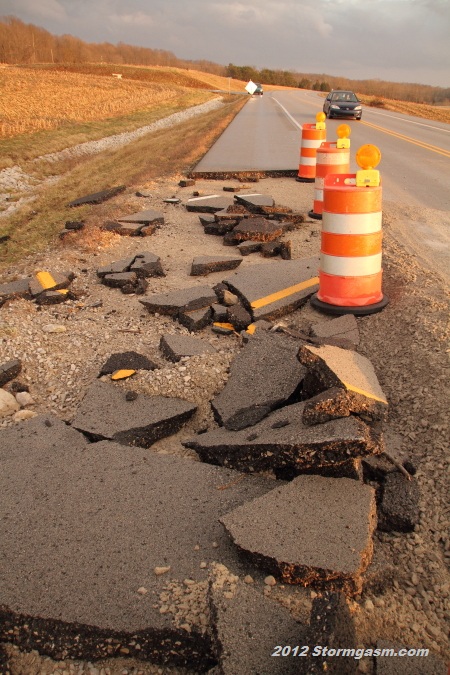 Peeled and broken slabs of aspalt several miles north of Palmyra on Highway 135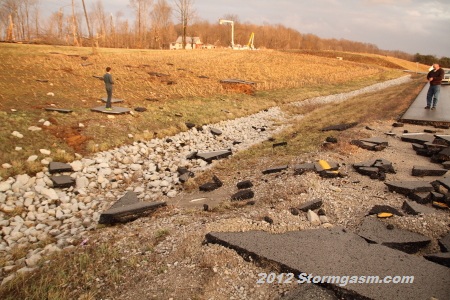 Peeled and broken slabs of aspalt tossed into field several miles north of Palmyra on Highway 135; some slabs were 8-12 inches thick; probably the most incredible tornado road damage I've seen or known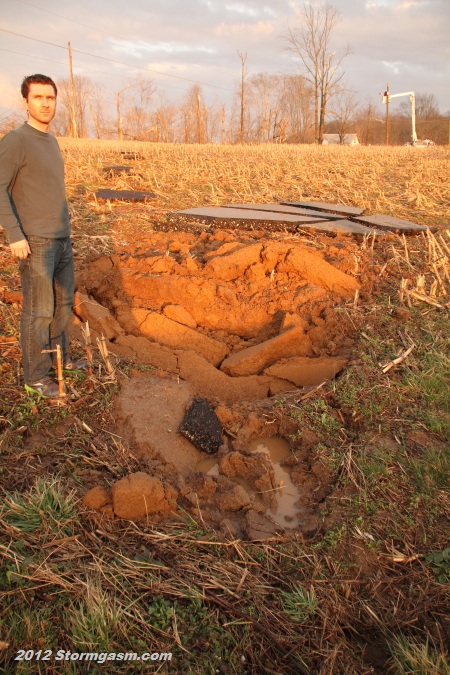 Impact crater from aspalt slab in field east of Highway 135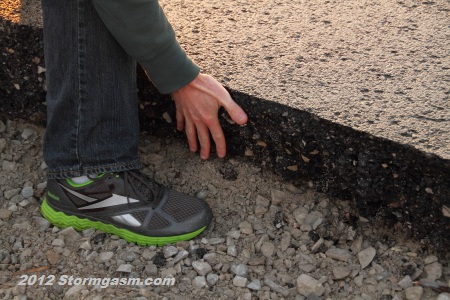 Thickness of asphalt slabs torn from road by intense tornado; this section was not the thickest we found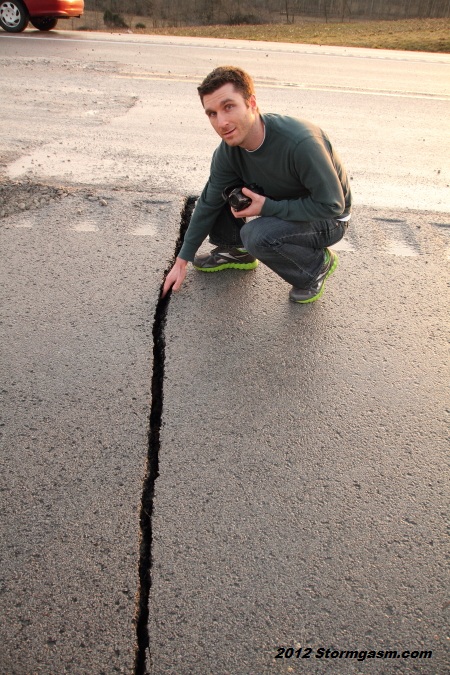 Jim giving perspective on the damage to the highway; this slab was moved, but slabs to the south were completely peeled from Highway
Home | Storm Store | Photo Gallery | Stormtalk | Storm Chases | Latest News
Stock Footage | About | Contact | Editorial | Weather Links
All storm chasing (tornado, supercell, lightning, hail, sunset, ect.) photos and videos are copyright property of Jim Bishop and Simon Brewer (Stormgasm), unless otherwise specified. Any unauthorized reproductions are strictly prohibited by law.
Copyright 2012 Stormgasm.com. All rights reserved.