January 27-28, 2009 Oklahoma Ice Storm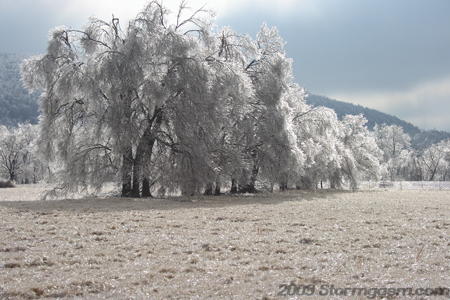 January 27-28, 2008: Simon documented an incredible ice storm over central and eastern Oklahoma. Light freezing rain and drizzle fell on Norman, OK on the 26th and changed to sleet overnight and into the 27th. Approximately 2 inches of sleet accumulated over Norman causing slick driving conditions for many. Further east, greater amounts of sleet accumulated (~4 inches around I-40). A narrow, but long region of heavy freezing rain accumulated from Warner to Westville, OK across northern Arkansas, the 'Bootheel' of Missouri, and into western Kentucky. Simon made a long and hazardous drive the night of the 27th into the early morning hours of the 28th and documented the region of heavy freezing rain from Warner to Westville, OK. Approximately 1.5 inches or more of ice had accumulated on nearly every surface in the Westville, OK area. Downed powerlines, trees, and local damage was documented in Adair County, OK.
| | |
| --- | --- |
| The pic on the right shows traffic on the morning of the 27th on Linsey St. looking west in Norman, OK. There was ~1 inch of accumulated sleet on the roads at the time of this picture. | |
| | |
| --- | --- |
| The pic on the right is looking south along 12th Ave. at the intersection of 12th Ave and Lindsey St. in Norman, OK. I'm pretty used to winter weather driving, but many in Oklahoma are not. | |
I had a day-off on Wednesday, so I decided to leave Tuesday night and drive to an area that recieved high amounts of freezing rain and get some video and photos. After analyzing data it appeared Adair County in northeastern Oklahoma was receiving the greatest amounts of freezing rain with little change to sleet; this was important, because most of Oklahoma receiving sleet, but there was a narrow corridor of freezing rain. I'll add some data images when I get the chance.

I left Norman at ~11pm on Tuesday night (27th), and drove east on I-40 with Westville, OK as my target. I encountered areas of very deep sleet, thick ice sheets composed of a conglomerate of sleet and freezing rain, and solid, clear sheets of ice from pure freezing rain. I, also, encountered two large traffic jams. The first traffic jam occurred a few miles east of Henryetta around 1am and lasted 2 hours. The next traffic jam was caused by a tractor-trailor that had 'jack-knifed' a few hundred meters in front of me and blocked the entire eastbound side of I-40 at around 4am a few miles west of Sallisaw. That traffic jam lasted about 1.5 hours.

The image on the right is looking ENE on I-40 during the first traffic jam east of Henryetta, OK looking at the cars and semi-trucks in front of me and on the westbound side of the interstate.
| | |
| --- | --- |
| The image on the right was taken during the first traffic jam and shows me taking a nap... I wasn't really sleeping in this image, but I really did take a short nap after I took this picture. I had brought enough supplies to live in my car for three days if need be, but I didn't really expect that to happen, but you've got to be prepared when chasing a major natural disaster like a winter storm or hurricane. | |
| | |
| --- | --- |
| Road crews attempted to clear the ice, but possible made driving conditions worse, because instead of clearing ice, they made deep rippled groves that made for a bone-shattering ride. I had set-up a tripod in the passenger seat area and the image on the right shows how shaky the ride was: the image is looking east along I-40 at night between Henryetta and Sallisaw, OK. | |
I had finally arrived in Westville, OK around 7:45am on the 28th. I was expecting amegedon, because the Tulsas NWS office issued a 'Civil Emergency Statement' for Westville. The ice was really bad, and there were many areas of tree and powerline damage, but I was expecting it to be worse. There was around 1.5-2 inches of ice accumulation in the area around Westville.

The image on the right shows grass and a fence coated in a thick layer of ice near Westville, OK.
I regret not staying longer and taking more pictures, because at the time I lost track of how many pictures I took, because I was shooting so much video. Not till I arrived back in Norman and reviewed my photos that I reallized I should have taken more photos.

The image on the right shows me holding a blade of ice-covered grass; the poor animals in the area (cows, horses, and donkeys) were munching on the ice breaking it up to get the grass inside.
| | |
| --- | --- |
| The image on the right shows me holding the top wire on an ice-covered fence. | |
| | |
| --- | --- |
| The image on the right shows horses looking for grass to eat, but only finding ice. The brown horse was slinging around a long piece of grass breaking off chunks of ice to get the internal blade. The horsed had ice hanging off their hair, especially their tails. | |
| | |
| --- | --- |
| Image on the right shows a herd of cattle looking for food. | |
| | |
| --- | --- |
| Image on the right shows a street in downtown Westville, OK looking at numerous downed trees and powerlines. | |
| | |
| --- | --- |
| Image on the right shows slow-moving traffic in Westville, OK. | |
| | |
| --- | --- |
| Image on the right shows icy-roads and downed trees in Westville, OK. | |
| | |
| --- | --- |
| I'm not sure where I took the image on the right... maybe the town of Westville, OK. | |
| | |
| --- | --- |
| Image on the right shows an impassable street in Westville, OK. | |
| | |
| --- | --- |
| This tree has been heavily pruned, which makes it safe from the ice storm. | |
| | |
| --- | --- |
| Image on the right is in Baron, OK looking east at a railroad bridge crossing the Baron Fork River. | |
| | |
| --- | --- |
| Image on the right shows the Baron Fork River. | |
| | |
| --- | --- |
| Image on the right shows ice-covered trees on SR 59 between Baron and Stilwell, OK. | |
| | |
| --- | --- |
| There was a low-level overcast cloud deck that morning, but after I had left Westville, and was near Stilwell patches of open sky appeared. The image on the right shows a patch of blue sky over an ice-covered tree. I'm mad at myself for not returning to Westville after the clouds began to evaporate, because all my pictures from the morning were kind of bland with the overcast conditions. I was hoping for some sun to illuminate the frozen landscape. | |
| | |
| --- | --- |
| Image on the right shows an ice-covered landscape lit by breaks in the clouds south of Stilwell, OK. The photo ops really started appearing at this time. I got lots of video, but little pictures after the sun appeared. I'll have to take this lesson with me next time I go shooting ice storms. | |
| | |
| --- | --- |
| Image on the right shows frozen trees south of Stilwell, OK. | |
| | |
| --- | --- |
| The image on the right shows a frozen hilly landscape south of Stilwell, OK. The hills were beautiful when lit by the sun. It was like an massive natural chandelier. | |
| | |
| --- | --- |
| Image on the right shows ice-covered powerlines in Warner, OK. The cool-looking spiral ice formations dangling from the powerlines were interesting. It appeared there were small wires or lines inside the formations, but I don't know why there would be multiple loose wires just hanging from live powerlines. Some of these formations were hanging only a few feet from the ground, which makes these things very dangerous, because they could fall on someone or if still conected to the powerlines someone could get killed! | |
| | |
| --- | --- |
| Image on the right shows a close-up of the ice formations. | |
Image on the right shows a bright and shiny street in Waren, OK: the spiral ice formations can be seen on the powerlines in the foreground. Waren received a combination of lots of freezing rain and sleet: ~1 inch of freezing rain and ~2-3 inches of sleet.

It was a long and slow drive back to Norman, OK: roads were better on the way back than the drive out the night before, but they were still bad. Next time I chase an ice storm and there is the possibility of sun, then I'll make it a priority to take more photos. I shot lots of video, so I'll try to make a short clip and get it on the site soon. Also, I'll try to get some data images for this page. It was a tough and long two days, but I think it was worth the drive; I love winter storms, not as much as hurricanes, supercells, and tornadoes, but I still love them enough to chase.

If I had more time I would have drove into Arkansas and got some footage and photos of the Buffalo National River area, but I only had Wednesday off, so I had to leave early and get back to Norman.
Home | Storm Store | Photo Gallery | Message Board | Storm Chases | Latest News
Stock Footage | About | Contact | Editorial | Weather Links
All storm chasing (tornado, supercell, lightning, hail, sunset, ect.) photos and videos are copyright property of Jim Bishop and Simon Brewer (Stormgasm), unless otherwise specified. Any unauthorized reproductions are strictly prohibited by law.
Copyright 2004 Stormgasm.com. All rights reserved.